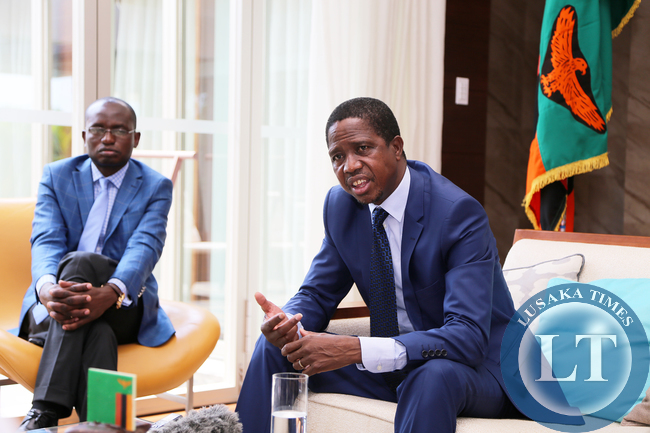 PRESIDENT Lungu has directed Minister of Mines Christopher Yaluma and Minister of Energy David Mabumba to quickly resolve the stand-off between Mopani Copper Mines and Copperbelt Energy Corporation over the adjustment of electricity tariffs.
The President's special assistant for press and public relations, Amos Chanda, has also said that management at Mopani should engage in civil and decent business practices rather than actions that blackmail government.
"The Minister of Mines and the Minister of Energy will be engaging Mopani to deliver a clear message that the tariffs adjustment is just one of the components of the broad reforms in the energy sector that government has announced.
"The President in November last year gave clear intention about subsidies in the power sector, fuel sector and agriculture sector and cabinet has passed policies which government is following through," Mr Chanda said at a press briefing yesterday.
He said if the reforms have been accepted by consumers at household level, government expects all sectors, be it business consumers, to accept the new tariffs.
Mr Chanda said, "the President has instructed the Minister of Mines to clearly engage Mopani and understand exactly what the mining company wants because the action they have taken recently is unacceptable."
He said the President does not want to see that workers at Mopani Copper Mines are disadvantaged.
Mr Chanda said while the President is aware of the court case, he also does not understand why the dispute between Mopani and CEC should affect suppliers such as the termination of payments to contractors and suppliers, especially Zambians.
He said threats to retrench workers and failure to agree to normal business practices are unacceptable, hence the President's directive to Mr Yaluma and Mr Mabumba to meet management at Mopani Copper Mines at the earliest possible time.
CEC and Mopani are locked in a dispute over the revised electricity tariffs, with MCM threatening to retrench nearly 5,000 miners after shutting down some of its areas of operation.
Last week, Government warned Mopani Copper Mines against going ahead with its plans to lay off 4,700 mineworkers.
Mr Yaluma has told journalists in Kasama that government will not allow Mopani to retrench any miner.
[Read 164 times, 1 reads today]