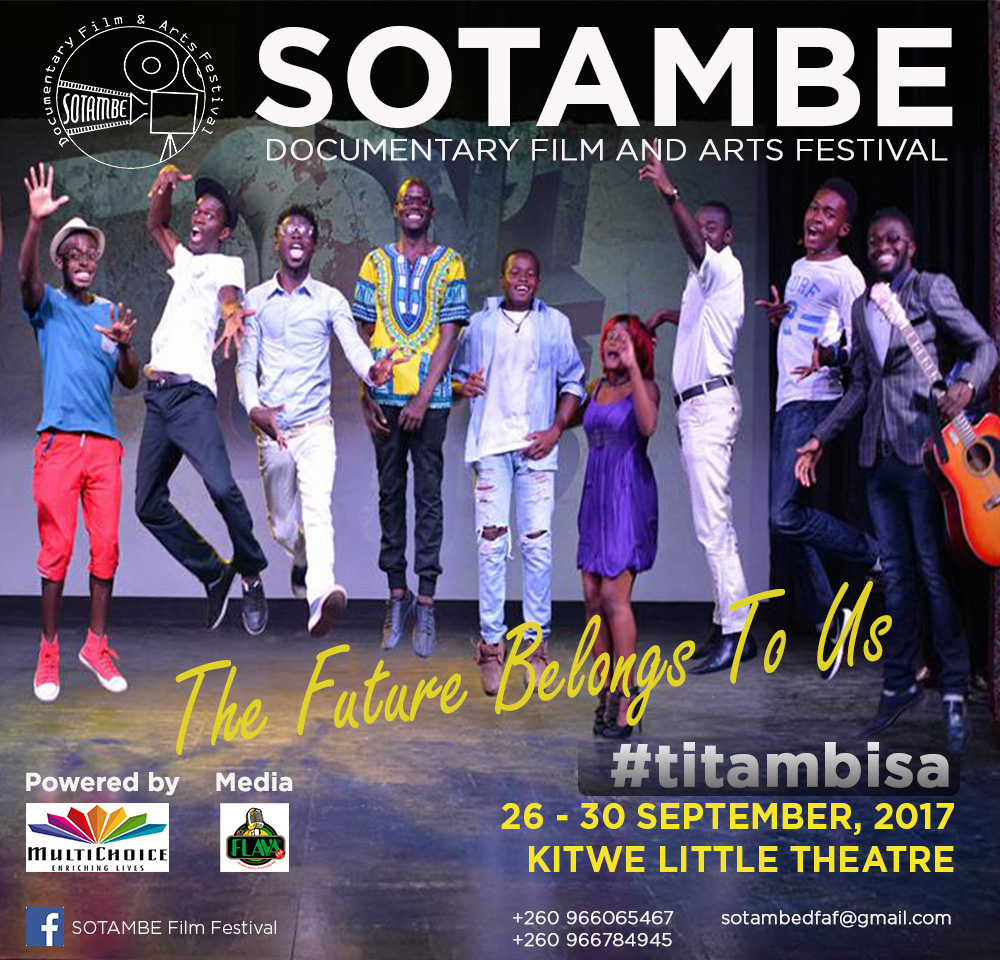 SOTAMBE Documentary Film and Arts Festival (SOTAMBE DFAF) is an event held annually in the month of September with the main aim to educate and raise awareness on social issues through film and arts.
SOTAMBE Documentary Film and Arts Festival conducts several activities throughout each year, always in accordance with the theme of the festival. Examples of such programmes include the celebration of the International Day of Albinism in 2016, Filmmaking Workshops in 2015 and 2016, Art workshop for Children in 2016, Art Exhibitions and the more intensive workshops such as the 4 Days Filmmaking Boot Camp in April 2017.
SOTAMBE DFAF powered by MultiChoice is the 4th installment of the festival and it will be held in the period 26th – 30th September 2017 at the Kitwe Little Theatre under the theme "The Future Belongs to Us". The theme highlights the involvement of young people in the development of the country, their active participation in decision making and the interest of youths in current affairs.
"We are very grateful to MultiChoice for partnering with us, as we share a common goal that is to contribute to the growth of the film industry in Zambia," said Daniel Mwale, SOTAMBE DFAF Director.
This five day annual event consists of documentary movie screenings which are followed up with panel discussions targeting mainly students from colleges and universities, as well as screenings of locally produced movies that are followed by discussions with the producers and directors on challenges they faced during the production process. "It is pleasing to note that we have received more than 30 local submissions this year and so the viewers can expect a lot of action, laughter and serious moments on the screen," unveiled Mwale. "The detailed festival programme is being drafted."
Apart from the screenings and panel discussions, which are core to the festival, SOTAMBE DFAF offers great educational, skills training and entertaining additional programmes such as Art workshop for children (26 August 2017), a tree planting exercise at various schools (2 September 2017), "Business of Filmmaking in Zambia" – an entrepreneurship conference at Nkana Golf Club (29 September 2017) and an Outdoor Screening: The Best of 2016 held at the Mukuba Mall in the period 14 – 16 September 2017.
SOTAMBE DFAF is a community event that serves as a platform to promote social awareness and change and also provides educational themes through film and arts. It is therefore free of charge. This is made possible by the partnerships with corporates such as MultiChoice Zambia, the main sponsors of the festival and Flava FM the official media partner. "It is our request as SOTAMBE DFAF to all corporate houses to partner with us in various aspects of the Film Festival in order to allow the growth of the festival in the country. This effort will result in the upcoming and seasoned filmmakers and artists to actualise their dreams and also help in providing social change in the society through their products."