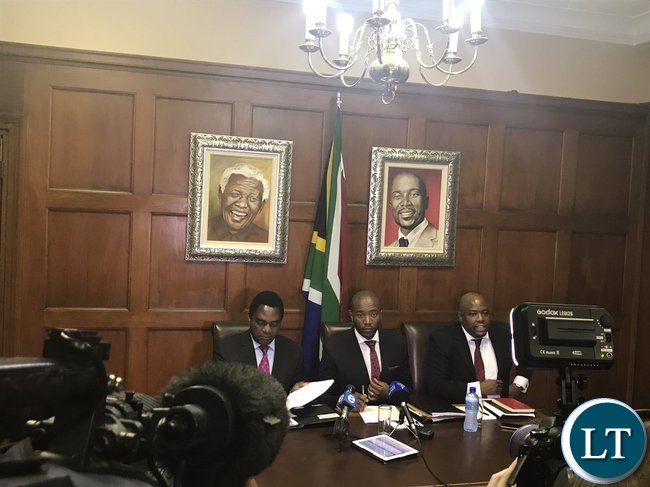 By Henry Kanyanta Sosala
The Failed Attempt of Regime Change in Zambia
Impeccable sources have been revealing about the meetings that have been taking place in South Africa between foreign financers and some Zambian opposition leaders. The most notable one was prior to the 2016 general elections when the financiers brokered a deal between two Zambian opposition parties where the presumed minor partner had to field the presidential candidate. But unfortunately the deal was rejected back home by the members of the major party.
Mubanga Luchembe wrote:
'

'Former Nigerian President Olusegun Obasango who advised the incarcerated UPND leader Hakainde Hichilema to put behind his defeat in last year's elections is currently the chairperson of the Brenthurst Foundation. And incidentally just like Zambia's Hakainde Hichilema and Kenya's Raila Odinga is equally a pawn of the Anglo American founders.'' (Zambia Daily Nation, 10th August 2017).
And in the same way Professor Mwiine Lubemba (Please note that it was not Mwinelubemba Chitimukulu) wrote:
''During election campaigns both Kenya's Raila Odinga and Zambia's Hakainde Hichilema were heavily financed and supported by the Brenthurst Foundation, an organization of regime change generation of African opposition leaders.'' ''ibid. 20th August 2017).
The civil rights activist Brebner Changala said:
''A highly sophiscated and heavily financed scheme to oust President Lungu and the PF has been hatched…… it has become fashionable for Western governments to influence regime change in Zambia and other African countries to counter the Asian influence, particularly the Chinese dominance in Africa since they have felt betrayed by PF and the late President Sata's failure to chase the Chinese, a campaign message that was used to dethrone the MMD.'' (Daily Nation 11th January 2016).
Two weeks after the 2016 general elections, the Operation Revenge was launched i.e., government offices in Lukulu burnt; Mr. Abraham Mwansa's Lusaka West lodge burnt; Lusaka city Market was burnt; Zesco infrastructure destroyed and causing black-outs to frustrate the citizens etc. And what can any government do in such a situation? All responsible governments throughout the world have got safety outlets for such situations in order to protect its citizens from criminal activities and anarchy. And currently there are in fact state of emergencies in France and Turkey.
Article 31 in our Constitution states: (1) The President may at any time by proclamation publish in the Gazette declare that a situation exists which if is allowed to continue may lead to a state of public emergency.'' And therefore in view of the above President Lungu on 5th July 2017 invoked Article 31 and asked Parliament to debate the his move.
President Lungu did not declare a state of emergency as the Constitution clearly states on Article 31: ''If allowed to continue may lead to a state of public emergency.'' Those blind experts should tell us what should be done in such situations or shut up. What is mostly heart-wrenching is the fact that those who have been agitating against this measure are supposed to be highly educated in this field.
A Nigerian preacher, Dr. Chris Kwakpovwe wrote: ''When lawyers begin to become liars, then there is a scarcity of faithful people on earth.'' And No wonder John Phiri sarcastically asked:
"…which universities did these educated fools go to where they were given degrees, masters and PhDs on how to plunder the nation's funds." (Education Post 10th July 2005)
And incidentally who were responsible for Operation Revenge? One can only understand when you study the gimmicks and underhand tactics of the capitalist-exploiter. And this can be drawn from spy books like ''For the President's Eye Only,'' or ''Spy: Uncovering Craig Williamson'' of how whites had infiltrated nationalists' organizations. These books give details of how they succeeded in betrayals and doing atrocities.
The Strategy to Diffuse Article 31
And since the white man does not care whatever can happen to an African and it was therefore imperative that Operation Revenge had to continue at all costs. President Kaunda in A Humanist in Africa expressed it very clearly:
''The European knew the African as servant and employee __ as an extension of a broom or a shovel….. certainly, they showed kindness and even generosity to those Africans they encountered in various relationships. They gave them many things ___ coddled them when ill; helped to educate their children; treated them with a certain fond of indulgence. But their relationships tended to be one-way, with the European dictating the degree of intimacy. There was lacking that basic honesty and openness of true friendship.''
the capitalist-exploiter knows that the majority of Zambians have great passion and are over zealous on issues which they hardly understand
The capitalist-exploiter is a great strategist and he is as well blessed with the gift of wit and he leads with truth but never to truth. He knows that the majority of Zambians have great passion and are over zealous on issues which they hardly understand. What our bloggers lack is thinking at the analytical lever. The veteran politician Ba Sikota Wina once said:
''We inflate little things and pretend they are big…..our complaints and our controversies, our commotions and our causes have grown ridiculous and we have all of us, become specialists in transforming the trivial into momental. Even deeply personal matters have become public debate, even President Mwanawasa's baptism can cause political controversies.'' (The Post 15th March 2005).
Let me digress to quote what The Post observed in the editorial:
''Our society has very few thinkers…..when our future generations ask themselves who the greatest thinkers were at this stage of our history, what will they find? We are afraid they may come up with none. If they should see an amorphous mass of mediocrity ruled by fear of being thought different and in so being subversive. It should not surprise us. It is because we only have time to chase after the little material gleam that is left from the plunderers' table and nothing more.'' (ibid. 29th June 2005).
Indeed, it is very unfortunate that there exists in this country, a deep sense of intellectual timidity, which means that the majority of ''genuine'' intellectuals are in the habit of ''thinking with breaks on.'' This is where one realizes the excruciating dilemma in which bona-fide intellectuals find themselves because they have to trim their minds continually in order to stay ''on course'', that is, in line with quack ''intellectuals'' who have dominated the intellectual scene.

the majority of genuine intellectuals in Zambia are in the habit of thinking with breaks on.
And this unfortunate scenario has consigned the entire nation on the same intellectual and political wave-bands and this was easily identified by the South African Communist Party Secretary-General, Dr. Blade Nzimande, when he visited this country and met the leaders of different political parties and the civil society groups in separate meetings:
''What is disappointing in Zambia is the extent to which virtually all the major political parties that will be contesting elections this year (i.e., 2006) are effectively committed to a path broadly similar to that of Chiluba.'' (Sunday Post 9th April 2006).
The strategy by the capitalist-exploiters to undermine President Lungu's leadership can best be understood from the following Bible account. King Ahab wanted to buy Naboth's vineyard since it was close to the palace, but Naboth refused because it was an inheritance from a long line of generations of his ancestors. However, the king's wife, Jezebel hatched a workable evil scheme and wrote letters in the king's name: ''Proclaim a day of fasting and seat Naboth in a prominent place among the people. But seat two scoundrels opposite him and have them testify that he (Naboth) has cursed both God and the king. Then take him out and stone him to death.'' (1 Kings 21:9-10).
In the same way the white capitalists picked two of their South African political puppets to carry out fierce propaganda against President Lungu and denounce him as a dictator. Julius Malema, the leader of opposition Economic Freedom Fighters (EFF) and Mmusi Maimane the figure-head of the white political party, the Democratic Alliance (DA).
On 28th July 2017 a Zambian tabloid was full of praise for Julius Malema who was described as a leader of the main opposition party in South Africa. But to the contrary, the South African tabloid ''The New Age'' of 1st August 2017 described Julius Malema as ''a useful idiot used at the will of others as a pawn.'' And here is a paradox: in Zambia Julius Malema is a celebrated hero, while in his mother country he is a just a petty idiot. And in ''The New Age'' of 3rd August 2017 Mmusi Maimane was described as ''hypocrite,'' and that DA was a party of chameleons who do not understand democracy. This clearly means Maimane is a very unprincipled person who can change his colours at anytime.
And here is what Yonela Diko, a media strategist and consultant wrote in New Age: ''In June 2008, Julius Malema made a name for himself when he declared at the ANC Youth league meeting that the youths would take up arms and kill for ANC President Jacob Zuma. And three months later he went further and vowed to 'eliminate any force' blocking Zuma's path to the presidency. In March 2010, Malema singing 'shoot the Boer' at the University of Johannesburg campus caused the whites to obtain an injunction from the Pretoria High Court preventing Malema from uttering the words, 'shoot the Boer.' And in June 2010 documents were filed at the International Criminal Court (ICC) at the Hague, charging Malema with mass incitement of violence towards white Afrikaans farmers.
''In February 2012 Malema was expelled from ANC and formed the Economic Freedom Fighters political party. And now he took it as his personal project to humiliate and embarrass the very person he was willing to die for in order to make him President. In March 2016 he told the South Africans: 'In between now and the impeachment, President Zuma will not speak in Parliament and we will stop him physically. We will push him because he is no longer the President of South Africa.'
''And what became of problems with the whites? Well, the privileged predominantly white who had done everything to create a monster out of Malema were going out of their way to use the dominant instruments of propaganda, which, by definition, is at the disposal of the privileged.
The privileged used the situation to sow a pretty picture of Malema and an ugly picture of the ANC because Malema had finally become their useful idiot whom they could use to deal with their everlasting black majority fears.
Dividing the black votes so that the whites could stop feeling like a minority was the ultimate target and proved Malema useful.
''Thereafter the once scare-mongering Malema was heaped lavish praise by the media for political brilliance. Julius Malema commands media attention akin to President Zuma but he only had 6% of the national vote while Zuma commands 62%. What was the purpose of overselling Malema in this manner by the white-controlled media? Today, the attacks on his private life have turned into excessive compliments. In April 2016 East Coast Radio called him Mr. Romantic. Mr. Romantic? That is what the media is calling Malema these days no more searching for his wealth and his investments to expose him and they now call him adorable.
''Rod MacKenzie writing in Mall & Guardian in February 2015 said: 'I have developed respect for Malema and his party that I never thought I would have. They had sheer guts to stand up in Parliament to call Zuma a thief, even a 'great thief, the greatest in the world'.
The Malema who was once reported to the ICC for crimes against humanity is no more. His fight against ANC President has turned him to a hero of the white world. Today he is even invited into white parties to come and make his idiotic noise, everyone knows he has no power; he is just a media creature who serves the white purpose.''
It was ANC's Zizi Kodwa who has labeled DA leader Mmusi Maimane a hypocrite and that he and his party did not understand democracy. In South Africa support for political parties at the polls has continued to be along racial lines. S'Thembiso Msomi, Mmusi Maimane's biographer wrote in the book, Mmusi Maimane: Prophet or Puppet?: ''Even with the celebrated Nelson Mandela at the helm, the ANC struggled to win votes among the country's minorities while parties such as the National Party and the Democratic Party got their votes mainly from those constituencies.
''Tony Leon grew the Democratic Party and subsequently the Democratic Alliance (DA) by consolidating the party's support among minorities. Helen Zille used this strong base and the DA's status as the official opposition, to try and convince black voters that her party was the only viable alternative to ANC.''
And since DA was a party dominated by the whites but on the other hand the black votes are a must in order to be ''a viable alternative to ANC,'' then what sort of a black candidate would qualify to be acceptable by both the blacks and the whites to lead the party.
Mmusi Maimane qualified as ''a rented black'' in the DA's white party since he is married to a white woman.
And Helen Zille ''hastily convened a party leadership meeting to announce her plans to step down. It was highly believed by most people that ''he had been 'anointed' by Zille and that he would be a 'token leader' easily manipulated by the party's 'real powers behind the throne'.'' In fact what really happened was merely the transfer of leadership from one white woman to another (i.e., Maimane's white wife) and Maimane is just a mere proxy.
The truth of Maimane being a proxy is recorded by his biographer, S'Thembiso Msomi: ''Maimane's critics often complain that he over-relies on his public speaking abilities to conceal the fact that he has no real solutions of his own.''
A journalist Jan-Jan Joubert who had followed the DA for several years holds this opinion of Maimane: ''He is a public speaker and, as with such speakers, they are only good when they have good speeches in front of them. He does not actually write his own.'' He is a mere actor playing a character that has already scripted for him. Columnist and former DA staffer Gareth van Onselen wrote two searing articles that put into question his suitability for the party's top job. In the first of the two, Van Onselen described Maimane as the DA's own ''Manchurian candidate,'' hence likening him to a character in a novel and movie by the same name who runs for public office at the behest of his puppet masters. The character has no views of his own and does, for the most part, as he is told.
The subsequent article called Maimane a ''hollow man'' who is surrounded by ''the biggest production team the party has ever assembled.'' Van Onselen continues ''any rare conversation with him on a difficult subject, requires a full and proper briefing, is like watching a news presenter with a broken teleprompter. They might boast a golden voice but the words are incoherent and ultimately meaningless.''
Van Onselen noted:
'

'Maimane has no views of his own and does, for the most part, as he is told.''
This trend was exhibited when the Zambia High Commissioner to South Africa, His Excellency, Emmanuel Mwamba warned Maimane that it would be inappropriate at that time to travel to Zambia to attend the incarcerated UPND leader, Hakainde Hichilema's trial. But this advice fell on deaf ears because he had already received orders from Vice-President Cyril Ramaphosa to travel to Zambia. And how did it come to be known? It was because Vice-President Cyril Ramaphosa called High Commissioner, Emmanuel Mwamba and bitterly complained as to why Maimane had been barred from entering Zambia. And this complaint for protocol's sake could at least have been lodged by the foreign affairs office and not the Vice-President. On the other hand, it proved that ANC's Zizi Kodwa was right when he labeled DA leader Mmusi Maimane as a hypocrite and a chameleon because as an opposition leader why should he receive orders from the ANC leadership! This clearly proves that Maimane is a very unprincipled person.
And deducing from the fore-goings both Malema and Maimane are just puppets on the whites' payroll
And deducing from the fore-goings both Malema and Maimane are just puppets on the whites' payroll and in fact one of their fellow country men, former South African President, P.W. Botha who according to the current situations in both South Africa and Zambia had hit a nail on the head when he said that the white man would use the African's love of money to destroy him. ''Here is a creature who lacks foresight.''
[Read 58 times, 1 reads today]