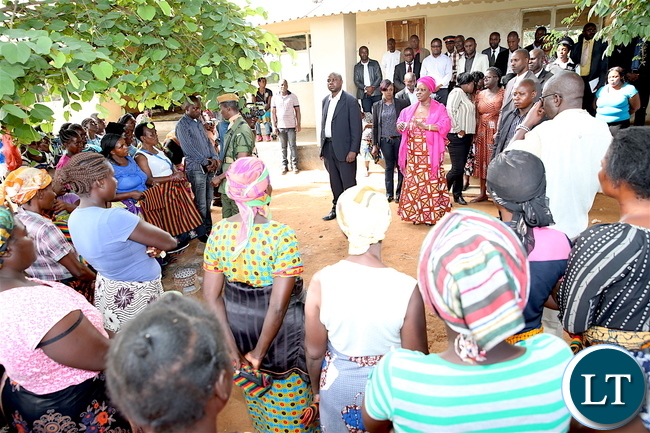 First Lady, Esther Lungu says she is saddened with the high numbers of teenage mothers being recorded in the country.
Mrs Lungu said it is not right for young girls to become mothers at the expense of education because the trend is retarding development.
She was speaking at Nangoma Mission Hospital yesterday where she also presented hampers to 14 babies who were born on Christmas day at the health institution.
Mrs Lungu advised the young mothers to go back to school after weaning their babies.
And Mumbwa Town Council Chairperson, Gracious Hamatala, said they have embarked on serious sensitisation programs against child marriages and teenage pregnancies to encourage girls to prioritize education in life.
Mr. Hamatala said the move was showing remarkable positive response although a lot needed to be done over the vice.
Earlier, Mumbwa Acting Medical Superintendent, Peter Simoonga, told the First Lady, Esther Lungu that the mission hospital was fully funded by government.
Dr. Hamatala however, said the health institution faces a few challenges including shortage of staff and equipment in some departments.
The First Lady later in the afternoon visited Mumbwa District Hospital and presented hampers to 16 new born babies recorded at the health institution between Christmas Eve and midday.
She also donated assorted foodstuffs to hospital management to supplement food rations for patients.
The foodstuffs included several bags of rice, bottles of cooking oil and biscuits among others.
And in receiving the donation, Mumbwa District Medical Superintendent, Vincent Mulenga thanked Mrs Lungu and her foundation trust for the donation.
Dr. Mulenga said the food donated will go a long way in supplementing food rations at the health institution.
He said patients were only being fed porridge for breakfast before the rice was donated to the hospital.