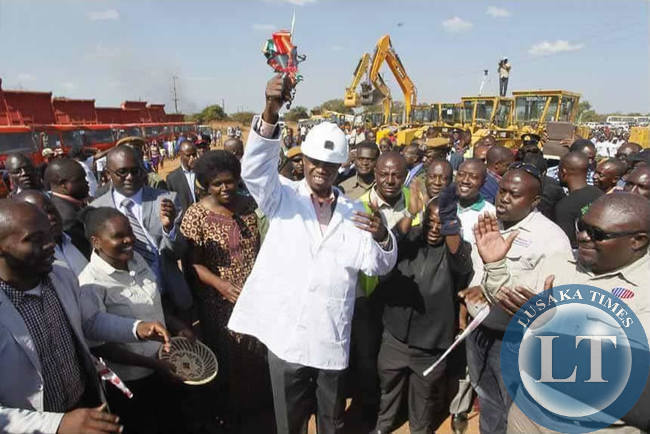 North-western province Deputy Permanent Secretary, Douglas Ngimbu has implored contractors working on Solwezi-Chingola road to continue working hard and ensure that they complete the project within the contractual period of July, this year.
Mr. Ngimbu said President Edgar Lungu has shown the political will to have the road completed by ensuring that it is funded.
He encouraged people in the province to show appreciation when their leaders are doing a good work for them.
He said President Lungu has not only shown commitment to deliver development to the province in the road sector but in many other areas as well.
Mr. Ngimbu said this in Solwezi when he inspected the progress of the works on the road.
He expressed satisfaction at the quality and pace of the works.
Mr. Ngimbu cited the connection of all districts in the province to the national electricity grid, which replaced a very unreliable diesel generated thermal power, as part of the commitment which government has shown to develop the area.
Meanwhile, the two major contractors on Solwezi-Chingola road project, China Geo Corporation (CGC) and Buildcon, have pledged to complete the works by July this year.
They said the impressive inflow of funding from government gives them confidence that they will complete works on time.
China Geo Corporation (CGC) Assistant Resident Engineer Mathewos Mandefro and Buildcon Assistant Resident Engineer Semma Tarekegn Fenta both said the heavy rainfall in the area has negatively affected the project as works are disrupted time and again.
The two engineers said when it is wet, laying and rolling of the asphalt becomes a challenge resulting in reduced voids in the asphalt.
And Northern Province Permanent Secretary Elias Kamanga has reiterated government's commitment to completing the ongoing infrastructure development projects in the region before embarking on new ones.
Mr. Kamanga said he was keen to ensure that focus is given to the ongoing developments before starting new projects.
He said projects that have reached an advanced stage will be prioritized so that government can realise value for money.
Mr. Kamanga added that government would ensure that infrastructure development, especially in rural parts of Zambia, is realised and appreciated.
And Mr. Kamanga has said the construction of roads, airports, waterways and communication towers among other critical pieces of infrastructure has immense potential of developing the region and boost its economic activities.
He disclosed that projects that will help boost the capacity of the region in untapped areas of growth will be prioritized.
He said the completion of the Kasama airport, opening of access roads to tourist sites such as Kasaba bay are the key projects that need to be focused on.
Mr. Kamanga said Northern Province is on the economic transformation path hence government will remain committed to increasing investment in infrastructure development in the area.
[Read 124 times, 1 reads today]