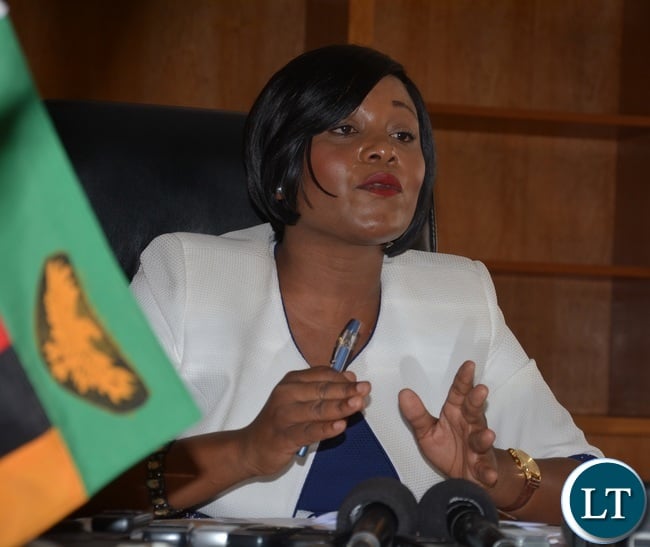 Chief government spokesperson Kampamba Mulenga has said accused investigative wings of portraying a picture that Government was condoning corruption among civil servants because of their inertia to deal with corruption cases.
Ms Mulenga has since called on the investigative wings to be aggressive and ensure that all corrupt civil servants were brought to book.
Ms Mulenga, who is Information and Broadcasting minister reiterated that the Anti-Corruption Commission (ACC) should speed up investigations into corrupt activities involving civil servants so that government was not accused of being reluctant to deal with it.
Ms Mulenga warned that corrupt civil servants will not be spared because government will not allow the name of the President to be brought into disrepute.
She warned that corrupt civil servants will face stern action to serve as an example to others.
Ms Mulenga said that it was unfair that the Head of State should be the one to get the blame because of corrupt elements in government.
"We are aware that the corruption is taking place at the grassroots, it's the junior officers taking advantage because much of the blame goes to controlling officers and ministers. But I want to warn corrupt civil servants that they should expect stern action from government.
Ms Mulenga explained that it was because of mass corruption among civil servants that the President had directed for a mass shake-up in the system.
Meanwhile, Finnish Ambassador to Zambia Timo Olkkonen has observed there is a lot of talk on the fight against corruption in Zambia which is not accompanied by action.
Mr Olkkonen said that there is lack of action against those cited in the Auditor General's report for misappropriation of public funds.
Mr Olkkonen told Q-news that government should consider giving the Anti-Corruption Commission more powers and allow it to work independently.
Mr. Olkkonen also questioned the public procurement process in Zambia, saying it is not fair and transparent.
Mr Olkkonen said that some European companies have been complaining that the procurement system is not transparent especially with regards to single sourcing practices which may lead to corrupt practices.
Mr. Olkkonen has also called for the protection of corruption whistle blowers.
[Read 56 times, 1 reads today]