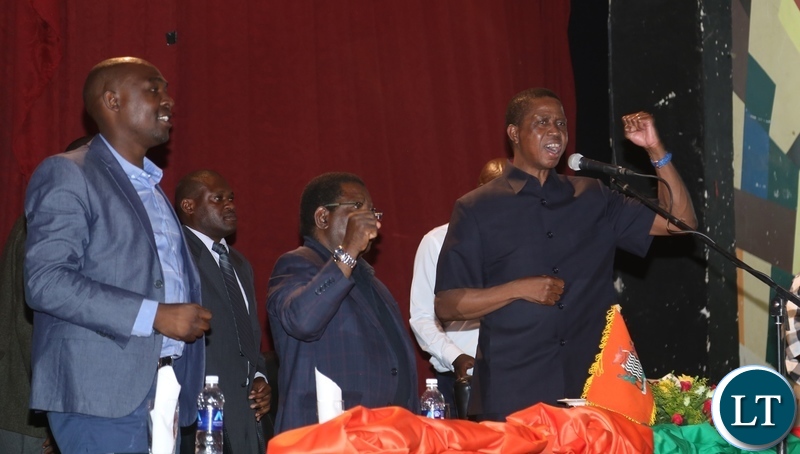 President Edgar Lungu says he will not respond to wild claims that he is not Zambian because they are being propagated by a mad man and his response will legitimise the nonsense.
Addressing party officials in Ndola today at Lowenthal theatre, President Lungu observed that he would equally be a mad man if he responded to mad people.
"Uko nashika umutoto nalikwishiba, oko nalesambilila nalikwishiba ( I know where my umbilical cord is buried and where I went to school) and even the friends I was with in school are still around. Nomba waisa ima kwati naupena noku bwata (you suddenly get up like a mad man and start talking nonsense.)
Nganaasuka ninshi naine nalipena (If I respond then I am also a mad man)," President Lungu said.
He mocked, in apparent insinuation against Mike Mulongoti, that he has eaten too much beans that it was now affecting his thought process.
"Nomba namwishiba kwaliba ubulwele nga ulenwa sana utubulugwe..beans ilya nga walya sana wanwa sana ilekata kubongo," President Lungu said to a laughing hysterical crowd.
"So forgive them, let us not give legitimacy to hallucinating people who are dreaming, abukafwe alebilima noku bilima… come on man, let's be real."
President Lungu then recalled his conversation with one of his ministers recalling that this whole thing was now unburying embarrassing moments of his childhood.
"Yesterday I was laughing with the minister, I was telling him ati this thing ba nsebanya nuku sebanya," President Lungu said laughing.
"Elo baile ku Chimwemwe, pa house number 4001 balisa kumanya ba shikulu baleibepusha ati ulya umulumendo aleikala pesa. Nabena ati aleiyikala apo, naba wishi twalebeshibe, aliwakupepekafye tale samba. (He responded yes the young man we know him, he used to stay at that house, we know him and we even knew his father. We used to chase him around for him to finally get a bath, he did not like bathing.)"
President Lungu narrated that the old man said; "They used to chase him around ati Chagwa ka sambe, (Chagwa go bath) Chagwa kasambe, all this te proof?"
He said if this was not enough proof, his growing in Chimwemwe, he had no idea what these mercenaries were after.
Additionally, the lawyer in him reawakened and said those who want him to now produce his NRC should know; "In law we say he who alleges must prove."
He then said this was the last time he will ever speak on this 'useless trivial' matter and directed the party to concentrate on more important things such as realising the party development manifesto.
"You mean u want to spend time talking bout this, come on, let's be real… so ine e last nalandapo because balya batata mashilu, mashilu. (This is the last time I am talking about this, those men are mad, they are mad)."