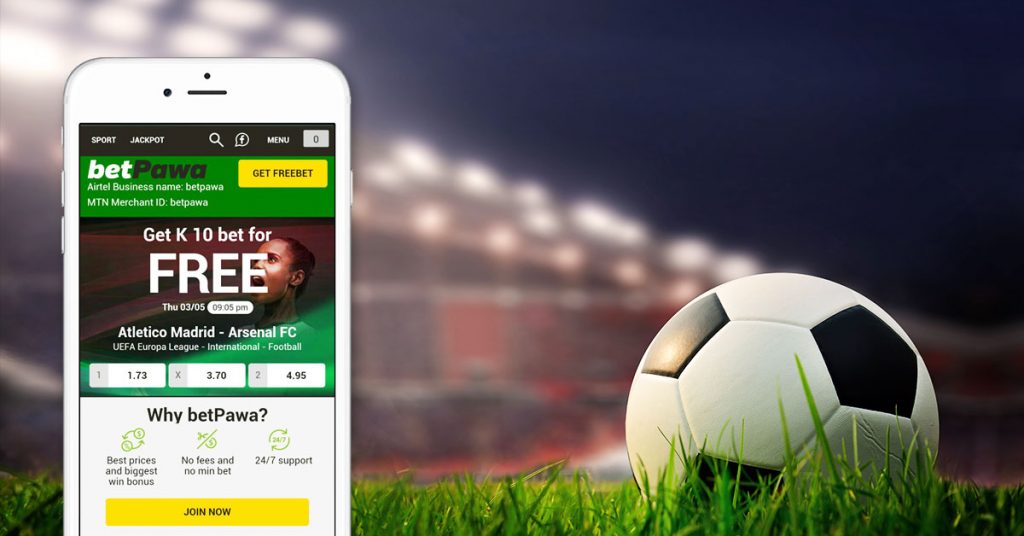 [Sponsored Article]
There is no questions about the most popular sport in Zambia. Football. There is no question about why it is the most popular and why people enjoy watching it the most. The excitement to see your favorites teams winning creates the positive feeling what makes it all worth it.
People here in Zambia also like to bet on the games to add some more entertainment to the game and earn some extra money with their smart picks. I will explain a bit why a lot of people are using amazing betPawa.co.zm mobile betting site as their favorite here in Zambia.
First bet is FREE
You don't actually need money to get started with – betPawa gives every new customer a K 10 freebet to get the things going. We here at betPawa strongly believe that betting should be entertainment for everyone as a fact the 'bet small, win BIG' tagline we encourage people to use stakes they are fine with. You can easily make bets with minimum 1 Kwacha only what keeps you away from risking a lot as we strongly believe in responsible gambling.
Quick access
First of all you don't need to move anywhere to place a bet. What you need is any internet connected device to place your bets. It can be mobile phone, tablet or a computer. A lot of people will say that they don't have smartphone as reason why they don't use online betting.
With betPawa you can use any phone you currently have to access our site and you don't need to download any application for that. Easiest way is to go to betPawa on any browser to get yourself started.
Easy transfers
If you wish to deposit or withdraw money betPawa offers you MTN and Airtel mobile money options what makes your betting experience smooth. You can simply withdraw your funds into your mobile money account with one click.
Weekly Jackpot
Jackpot, where you can win an incredible 100,000 Kwacha with just 1 Kwacha bet. All you need to do is predict the outcome of 15 top games to take home the first place prize. Don't worry if you don't hit all the games correct. We will give out prizes to all who have at least 11 correct picks out of 15. If you feel like you are not sure about picking only one outcome you can also pick multiple selections what will create more tickets but note that the cost of 1 ticket is K1.
Play betPawa Jackpot
Up to 100% WIN BONUS
Winning with betPawa gives you more. Starting up with K10 freebet
Do you usually place 5 or more outcomes in one ticket? If yes then the betPawa win bonus is definitely something you are interested in.
5-9 legs 10% Bonus
10-19 legs 50% Bonus
20-30 legs 100% Bonus
That means if you have placed a bet on at least 20 outcomes we will double your win! Amazing right? You can bet on any wished outcome you can find on our site to enjoy this bonus. Read more at betPawa win bonus
Earn money by inviting friends
Have you already deposited K 10 and placed bets worth of K 50? If yes then you can invited your friends to join betPawa family through you personal link and earn K 10 from every friend if they have also met the conditions. Read more at www.betpawa.co.zm/refer
Gain more
Having the availability to access anything in your pocket saves you time already creating your tickets. You can simply lay down in your couch and create your ticket using best odds in Zambia. Also, we don't close our service for customers as we are available 24 hours per day and 7 days a week online. So my question is what are you waiting for? Sign up today through the betPawa freebet and start winning!
For questions our first class customer service is there for you to help with your queries.
[Read 4,643 times, 4 reads today]