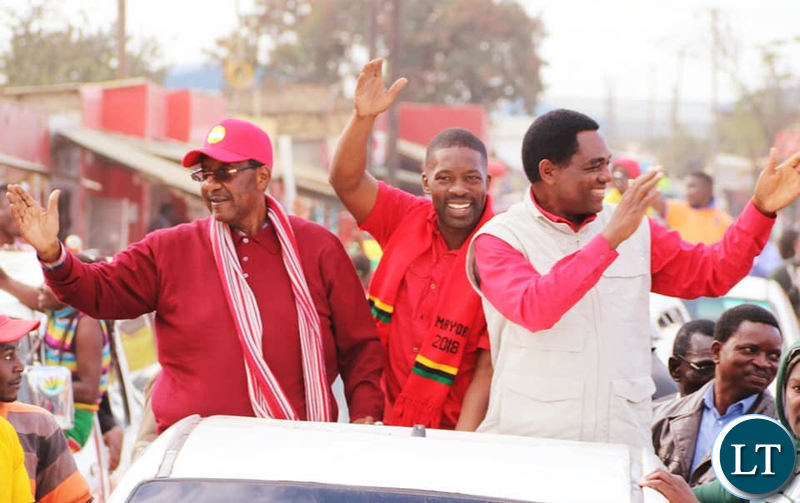 Losing UPND Lusaka Mayoral candidate Kangwa Chileshe says now is not the time to give up.
Reacting to his loss to PF's Miles Sampa, Pastor Chileshe declared that the race to 2021 has just began.
Final and verified results show that the PF amassed 81936 while the UPND received 36753 with Mundia Mukubesa of PAC emerging third with 7741.
Pastor Chileshe said victory beckons at the doorstep.
"To my President, his Deputy the entire party leadership, and the gallant and heroic supporters in my beloved Party the UPND, I wish to sincerely thank you for your courage and unflinching support and confidence you bestowed on me by standing up for democracy and flying our party flag with honour and integrity," Pastor Chileshe wrote.
"Your undaunted and heroic support has made me ten times stronger and more resolved to look at the future with hope and great expectation," he said.
He said yesterday's election has shown that the upcoming times are pregnant with victory and good promise.
"This is not time to rest and give up hope, for the race to 2021 has just began in earnest, and victory beckons at the doorstep. I also wish to extend my heartfelt gratitude to all my collegues in other opposition parties that took apart in this epic race," he said.
"Dear friends, you did not compete against me, but alongside me, for together we accomplished our mission and gave example to our people especially our youth, that political opponents are not enemies but partners in shared values and beliefs, to move our country foward in prosperity and equal opportunities for all."
Pastor Chileshe has since congratulated Mayor elect Sampa on his victory.
"To my elder brother the Mayor elect, I extend my best wishes for the future as you strive to make Lusaka a better place for all who live in it. I will not hesitate to provide my democratic right to offer necessary checks and balances in line with principles of democratic tenets, each time an opportunity arises."
He added, "To my beautiful wife and wonderful children, thank you very much for standing by my side, for fervently praying for me and with me, even when it seemed hopeless and lonely. I can only promise to love and cherish you more."
"Lastly but most importantly, I wish to thank my God for powering and protecting me and my family throughout this whole process. Thank you heavenly Father…."So do not fear, for Iam with you; do not be dismayed, for Iam your God. I will strengthen you and help you; I will hold you with my righteous right hand". – Isaiah 41:10"
[Read 144 times, 1 reads today]