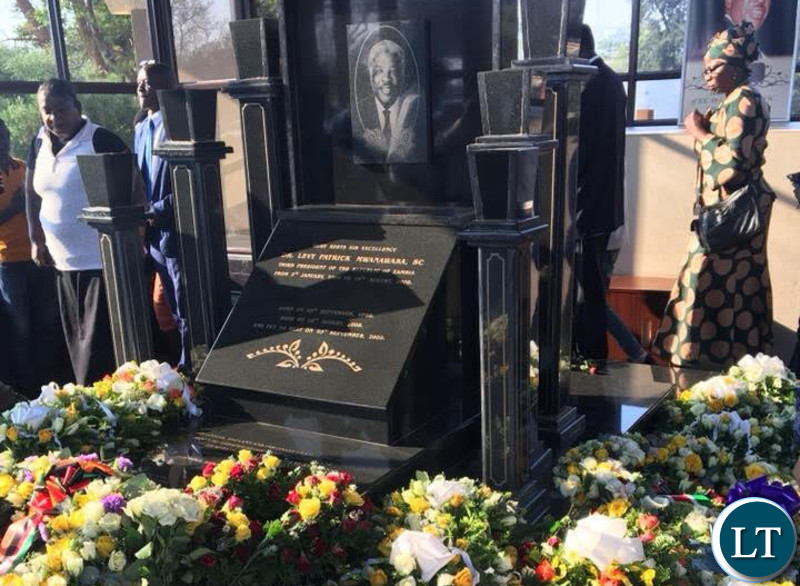 The Levy Mwanawasa Foundation has requested Cabinet to consider declaring August 19th as a Public Holiday in honour of late President Levy Mwanawasa.
19th August, ten years ago is the day that Dr Mwanawasa died in a French military hospital.
Foundation Chairman Dr Moses Banda said the Holiday does not necessarily need to be a full Holiday but could be a working one because of economic considerations.
Dr Banda was speaking at the Cathedral of the Holy Cross in Lusaka during the 10th Memorial Service of the late Dr Mwanawasa.
Dr Banda said declaring a Public Holiday will go a long way in honoring the legacy of the late Dr Mwanawasa.
"As a foundation, we honour his adherence to rule of law. Did Mwanawasa achieve all his goals for Zambia, no he didn't achieve his goals, did he attempt, yes he did," Dr Banda said.
He stated that Dr Mwanawasa took one more step into making the nation's understanding of his ideals and that it is now up to Zambians to endeavor to sustain his legacy.
Former First Lady Dr Maureen Mwanawasa remembered her late husband as man who had a deep sense of justice.
She said for Dr Mwanawasa, Justice was none negotiable.
She has since on Zambians to use the occasion of the 10 years of his death to reignite the spirit of oneness and reconcile which the late Dr Mwanawasa demonstrated when he reconciled with then opposition leader late Michael Sata.
At the same event, President Edgar Lungu said the PF vividly remembers and warmly feels the brotherly handshake between Dr Mwanawasa and Mr Sata and the assistance Dr Mwanawasa rendered to Mr Sata for medical attention.
"For us, that is a sign of a great leader who was selfless and from that we draw from his strength," Mr Lungu said.
"We should not fail to recognize that Dr Mwanawasa was not a saint but a normal human being and he had a vision for Zambia to be a just society where rule of law prevailed. Dr Mwanawasa envisioned a country with opportunities for the Young and where hunger will be relegated to the history books," Mr Lungu said.
He continued, "the onus is now on all of us to keep his legacy alive."
And in interviews shortly after the memorial service, UPND President Hakainde Hichilema said late Dr Mwanawasa, ensured that the rule of law, justice and equity took centre stage.
Mr Hichilema said Dr Mwanawasa vigorously led the fight against corruption and that he will be remembered for massive economic recovery resulting debt reduction.
"These are some of the many leadership inspirations we learnt from the son of the soil and as a country we must ensure that such progressive works are not let down for the greater good of us all," Mr Hichilema said.