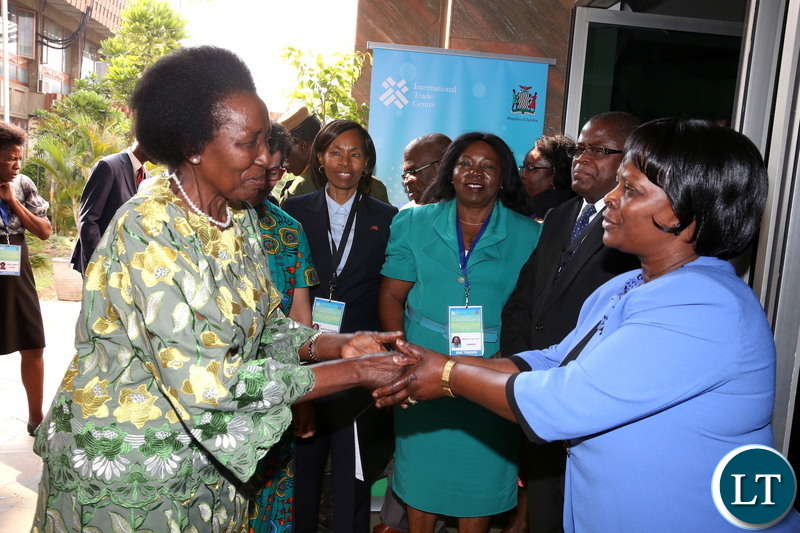 First Lady Esther Lungu says she will continue championing women and girl-child rights for them to fully participate in the economy by ensuring that they venture into viable businesses.
The First Lady says there is need therefore for women and girls in the country to ensure that they do not to allow anyone to discourage them, but aim higher.
Speaking during the launch of the She -Trades Zambia Chapter in Lusaka today, Mrs Lungu said there is need to accelerate awareness on the She -Trades Zambia Chapter as a platform that will bring women together from different sectors and share experiences.
She also encouraged the continuation of the organizing sector to specific buyer-seller meetings within regional and international markets in order to create more platforms for women to enhance their business skills.
Mrs. Lungu also urged women entrepreneurs to explore business opportunities and take full advantage of the benefits that the Ministry of Commerce, Trade and Industry is offering to provide avenues for open dialogue and experience sharing.
She further advised women entrepreneurs in the country to change their mindset by aiming high saying they should realise that they have to play a much bigger role on international trade and development .
The First Lady noted that nothing is more satisfying than seeing women pulling each other up than pulling each other down.
As women their vision is to find solutions that support all women without leaving anyone behind because this is in line with the commitments to the sustainable Development Goals and Zambia Vision 2030, said the first Lady.
The She Trades Zambia Chapter's objective is to support women entrepreneurs by identifying key policy barriers in trade experienced in the local business environment.
Vice President Inonge Wina who officially opened the Chapter said women owned enterprises can be an effective drivers for economic inclusion in trade and help them to grow their businesses.
" This chapter will focus on agricultural, textile and clothing value chains and developing a conducive policy framework for women, " said the Vice President.
Speaking earlier International Trade Centre Executive Director Arancha Gonzalez said the goal of the Chapter to t ensure no women are left behind.
Ms. Gonzalez said there is urgent need to support women entrepreneurs in Zambia because they are key to sustainable development
[Read 56 times, 1 reads today]