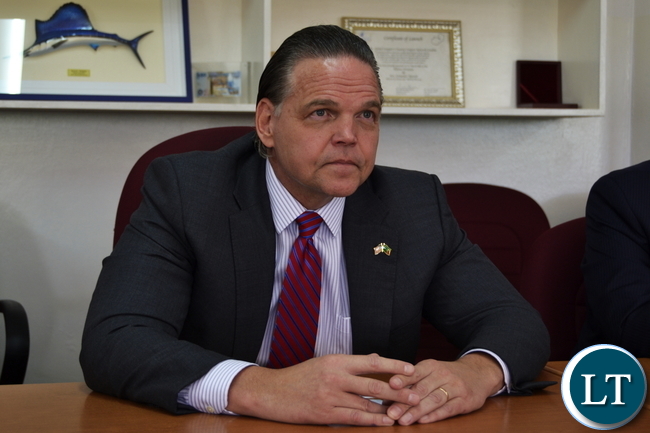 The United States government says it has approved funding which will help to reinvigorated the HIV target of having 1.1 million people living with HIV on Anti-Retroviral Treatment in the country by 2020 run from October 2018 to September 2019
Speaking during the launch of the 2018 Country Operating Plan (COP18) and the commissioning of the Kantolomba health Centre in Ndola, American Ambassador to Zambia Daniel Foote said the funds worth 385 million United States Dollars is meant to expand access to HIV/ AIDS services for the people in Zambia from October 2018 to September 2019.
The funds will help to facilitate bringing ART services closer to the people and also reduce on distances that people travel to access health care services and also to decongest some health facilities in the country.
Mr. Foote said that he is optimistic that the HIV epidemic will be reduced as services will be brought closer to the people as possible.
And Health minister Chitalu Chilufya thanked the US government for the support towards the fight against the HIV AIDS pandemic to the Zambian government.
" The funding will escalate interventions in priority populations such as children, adolescent girls and young woman between the aged 15 to 24 years and men aged 24 to 35 years, " said the minister.
Mr. Chilufya added that there is need to invest in innovations that will ensure that the underserviced population have access to HIV testing services such as self-testing, index testing and geographic focus on areas with high prevalence incidences.
The COP18 will bring about the establishment of HIV incidences surveillance systems among people newly diagnosed with HIV as this will help focus in the prevention services on specific populations thus reducing new infections and achieving epidemic control.
Meanwhile US Deputy Global coordinator Mamadi Yilla said the Presidents' Emergency Plan for aids Relief (PEPFAR) will contribute to achieving the 90-90-90 epidemic control by scaling up successful and higher yield testing approaches in prioritised areas.
[Read 80 times, 1 reads today]