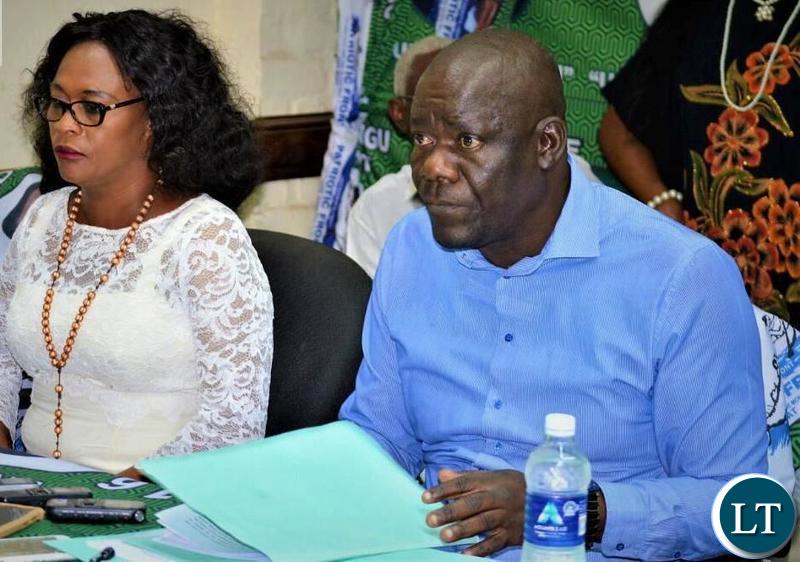 PART FOUR
By Hon Davies Mwila
In his address to Parliament on 30th September 2016, His Excellency President Edgar Chagwa Lungu stated that:
"As part of our Industrialisation and Job Creation Agenda, Mining will continue to play a key role in our economic growth and diversification to maximise benefits from this sector. Zambia possesses higher comparative advantages in mining, which has to be diversified away from copper to other precious minerals, to include oil and gas exploration; so as to mitigate against the changes in the prices of copper. There is need to shift our mind-set from the belief that we can only obtain higher growth from copper within the mining sector at the expense of other precious minerals whose prices at the international market are equally competitive.

In addition, Government will promote value addition in the sector with a view to obtain more benefits through processed products such as jewellery, cables, and other finished products, for use on the local and international markets. Within the spirit of promoting an integrated approach to development, Government will promote an environment aimed at promoting a productive relationship between the mines and mine suppliers to contribute to the growth of medium and small-scale entrepreneurs, (and) to maximise on our job creation prospects."
As espoused by President Lungu in the speech cited above and in line with the 7NDP, the PF Government is implementing several programmes aimed at delivering "a Diversified and Export-Oriented Mining Sector" in Zambia. A few of these programmes and interventions are highlighted in the following paragraphs.
Small-Scale Miners' Financial Access and Empowerment Programmes
In order to empower and facilitate financial access to small-scale miners in Zambia, the PF Government has prioritized the promotion and production of Artisanal and Small-scale Mining (ASM) in order to create employment and accelerate inclusive development in line with the Seventh National Development Plan (7NDP). The PF Government is promoting ASM by supporting mining of gravel, clay, stones, limestone, granite and phosphates; which collectively make a significant contribution towards diversifying the sector and economy, especially if it is quarried, processed, and manufactured domestically in industries such as agriculture, construction and manufacturing.
Furthermore, the PF Government under President Lungu is facilitating financial access to small-scale miners through such programmes as the Development Mineral Capacity Building Programme. This is an African, Caribbean Pacific and European Union (ACP–EU) Development Minerals Programme, which is a three-year €13.4 Million capacity building programme. The Programme is coordinated by the ACP Secretariat, financed by the European Commission and United Nations Development Programme (UNDP), and implemented by UNDP and the Ministry of Mines and Minerals Development.
This Programme is actively supporting sustainable and inclusive development in the industrial minerals, construction materials, dimension stones and semi- precious stones sectors through capacity development of key stakeholders such as regulatory agencies and local governments; private stakeholders including small-scale mining enterprises, construction companies, mining and quarrying associations; as well as training centres, universities, civil society organizations and community groups.
The ACP Group of States is the largest intergovernmental association of developing countries with 79 Member States from Sub-Saharan Africa, the Caribbean and the Pacific. Member States work together for the eradication of poverty, sustainable development and the integration of ACP States into the world economy. All Member States apart from Cuba are signatories to the Cotonou Agreement which gives the ACP Group a privileged relationship with the European Community.
Through this ACP–EU Development Programme, the PF Government is successfully empowering small-scale miners through capacity development and increased access to financing.
Occupational Health, Safety and Environment Strengthening Programme
Under this Programme and in line with the 7NDP, the PF Government has strengthened the enforcement of existing laws and regulations on occupational health, safety and environmental protection. This is in order to curb preventable mining accidents, and provide maximum protection to human health and environmental wellbeing.
The Vision 2030 among other things states that: "The nation Zambians aspire for, should be characterized (by) development policies consistent with sustainable environment and natural resource management principles". By so doing, the PF Government is significantly contributing towards actualizing Zambia's Vision 2030 objective, which is to become: "A Prosperous Middle-Income Nation by 2030".
Promoting Local And Foreign Participation In Mining Value Chains And Industrialization
In line with the 7NDP and in order to accomplish Vision 2030, the PF Government is promoting Local and Foreign Participation ("investment") in Mining Value Chains as well as Industrialization in general.
A prime example of such promotion of participation ("investment") in mining value chains is, China Non-Ferrous Metals that has invested US Dollar 850 Million at the South Ore Deep Mining Project in Kalulushi. This investment has led to the creation of over 1,000 jobs for Zambians.
In addition, the PF Government is also facilitating industrialization as evidenced by the recent signing of an agreement between Central African Cement Company and Sinoma CBMI to set up one of the largest cement factories in Ndola at the total cost of 480 Million United States Dollars. Once the plant is commissioned, it will produce 2 million tons of cement will be produced per year. 1000 jobs will also be created during the construction phase.
Promoting Petroleum and Gas Exploration
In keeping with the 7NDP prescriptions to attain Vision 2030, the PF Government has established a governance framework and enabling environment for the petroleum and gas sector, as evidenced by investments into petroleum and gas exploration. The PF Government has established a governance framework and enabling environment for this promising sector so that all petroleum and gas exploration is undertaken in an efficient, safe and environmentally-friendly manner, and in a way that ensures maximum benefit to all Zambians.
The PF Government is promoting exploration for petroleum and gas in Zambia. For example, Tullow Oil, a United Kingdom firm, started exploring for oil and gas in Northern and Luapula provinces in 2017. Although Zambia does not currently produce oil, soil samples which were sent to European laboratories showed good traces of crude in the aforementioned provinces.
The exploration phase by Tullow Oil is expended to take between 2 to 10 years; the development phase will take about 3 to 10 years, while the production phase will take about 20 to 50 years. However, once oil deposits are confirmed to be in the areas under exploration, the PF Government has already put in place mechanisms which shall ensure that an emerging Petroleum Industry is well-organized, well-developed and well-managed in order to deliver maximum benefits and opportunity-sharing for all Zambians. More so, an emerging Petroleum Industry in Zambia would significantly boost current Government efforts to diversify the Zambian economy as well as create employment countrywide.
CONCLUSION
In line with the PF Manifesto and the 7NDP, the PF Government is delivering a diversified and export-oriented mining sector by implementing various programmes and projects, some of which are mentioned above. Due to these efforts by the PF Government, there has been tangible progress in diversifying, capacitating and industrializing the sector and other related sectors.
To echo the words of His Excellency President Edgar Lungu as he concluded his 2016 address to Parliament:
"We must all invest in hope and hard work that must lead all of us to a place of affluence. This we can do as a united, peaceful and democratic society. In the collective power of this nation, I have great hope. In the patience and resilience of our people, I have no doubt. Zambia is our common heritage. It is our common inheritance. Let us all work towards nation building. Let us build a nation that celebrates diversity and aspiration. Let us reject all forms of illiberal values. We are tolerant nation and so we must remain. Our country was built on a foundation of hard work and unity. Let us be patriotic in order to build a stable, peaceful and prosperous Zambia. Country interest must come before political party interest. In the words of that great son of Africa, Nelson Mandela, "let there be work, bread, water and salt for all".
The PF Government under President Lungu has unequivocally "invested in hope and hard work" as it delivers a diversified and export-oriented mining sector for the betterment of Zambians everywhere.
The Author is Patriotic Front Secretary General
[Read 912 times, 1 reads today]