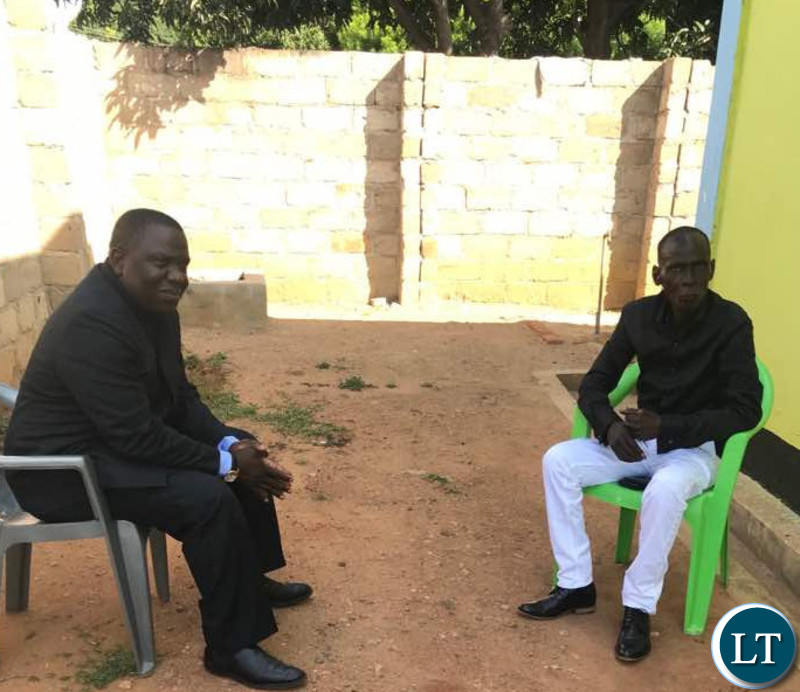 Yesterday marked a year since Bahati Law Maker and DP Presidential Candidate Hon Harry Kalaba resigned from his ministerial position as Zambia's Foreign Affairs Minister. A position he held since 2012.
In his resignation, Hon Kalaba clearly indicated that his conscious could no longer agree with the happenings in government, the massive corruption that surrounds the PF government kept chocking him, the materialist approach that has escalated made him believe and convinced that he was in a wrong camp.
He was convinced that the bonds of government that held them together had been broken by verture of government turning their backs on the promises their made to the poor people of Zambia and of course abandoning the PF pro poor manifesto which saw the PF form government in 2011. Hence, there was no need of dinning together.
His resignation came after many attempts to correct the current leadership to repent and desist from their ill acts unfortunately all the effort fail on deaf ears.
When he announced his resignation, PF Kandiles that feed from the masters table arose like roaring lions little did they know they had no teeth. They called him all sorts of names, demonized him as power hungry, bitter and all those words that satisfied their ego.
Others tried to push him to reveal the corruption allegations he talked about. However, in his calm and sober voice he responded by saying time will tell.
True to his word, time has revealed it all, Harry Kalaba has been vindicated. The many corrupt activities that have surrounded the PF government are all in public domain for all to see. It has proved that Harry Kalaba is a man of his word, that he is trust worthy and means well for Zambia.
From the time he spoke out, Zambians have lived in shock of waking up each day to hearing all sorts of corrupt and theft scandals.
They watched helplessly as their taxi payers money and natural resources was been plundered. The fire tenders scandal of 1million, Mukula tree, Saudi Arabia fuel of six days which up to now has left the people of Zambians subjugated. The social cash transfer scandal, the Ministry of Healthy, the Ministry of Education scandals and of course the auditor general's report that reveals it in totality.
Amidst all these , one wonders why the highest office of the land has remained mute except making remarks that are dividing this country with the recent one that has angered the Bemba land causing them to vow never to vote for the PF.
Suffice to say that a lot of voices have been calling for a national address to have an explanation on how taxi payers money is being misappropriated but to no avail. A clear indication that the PF government has no regard for the people that voted them in power.
One wonders, could it be fulfilling the saying silence means consent to guiltless or could it be a game of let the sleeping dogs lie ?
In all this the consoling factor is that Zambia' s next President Hon Harry Kalaba has been vindicated while those that called him names flounder in deep shame .
They said he was not a factor, they bragged that he is not going anywhere.
Lo and behold, the stone that was rejected has become the chief corner stone. He is the preferred candidate in the next election, he has given hope and restored confidence in most of the Zambian voters.
He has set a new tone in Zambian politics. Politics of issue based and unwrapping of the vision he carries for mother Zambia is what he has concentrated on.
Zambia has commended him for this and asserted to support to him while they run around, chase after him as though venom has filled their eyes.
Hon Harry Kalaba now adopted as Democratic Presidential Candidate for 2021 elections emphasizes that the next elections will not be about political party A and B rather it will be about the past and the future. About social cash transfer scandal, about fire tenders scandal and the future that Zambians want to see. A corrupt free government, a non violet nation , a party and leadership that will break the divide of politics of tribalism, a government where Zambians will be given preference rather than where the Chinese and other foreign individuals have taken centre stage in benefiting from the resources of this country is what Zambians will vote for.
Zambians are looking forward to leadership that will bring women and youths to the fore in governance, pay particular attention to Research and development, industrialise the country, provide farming inputs at the right time, pay contractors and suppliers on time, restore the dignity of street vendors who have been displaced from their selling points because the foreign shop owners complained of not having enough sells because of the poor Zambian that sold outside their shops.
My prayer for my country and my people is Awake my Zambia!! Awake my people!! Harry Kalaba means well. He is the right man for state house. He has what it takes to lead our beloved country. He will not any particular moment be compared to the current crop of leadership.
Zambia needs a leader who is selfless to propagate a serious agenda of national development.
Let us all resolve to support Harry Kalaba and the Democratic Party for 2021 elections.
The author is a spokesperson at DP secretariat Judith Kabemba
[Read 4,192 times, 1 reads today]