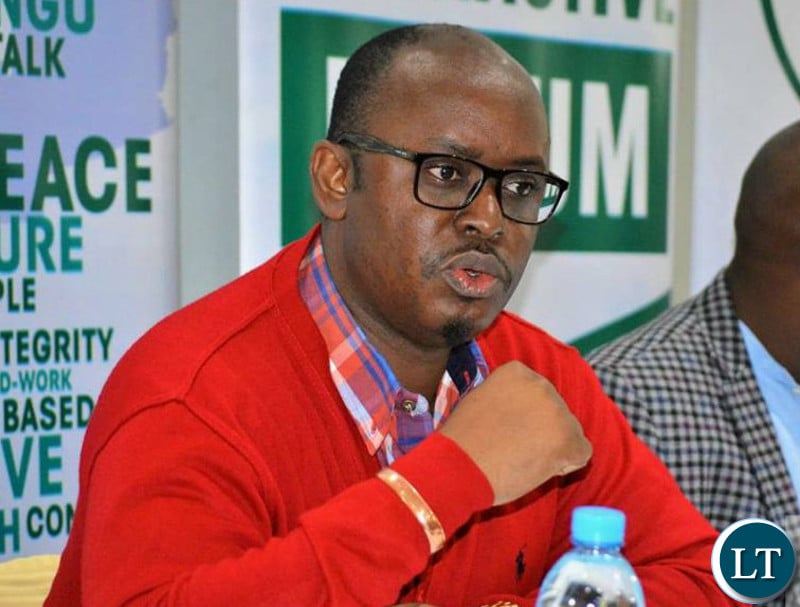 By Sunday Chilufya Chanda
We have consistently stated that in the interest of a vibrant democracy and development of our country, the nation needs an opposition that will add value to the political discourse by offering alternative policies.
We need a contest of ideas and best practice that will raise the bar higher than the record dizzy heights the ruling party has set it.
Zambia doesn't need Insultant's: The Nation Needs Credible Competition in the Form of a Proposition Partys
What we do NOT definitely need from the opposition is the type of competition of insults and contest of calumny being promoted by and between Roan Member of Parliament Honourable Chishimba Kambwili and Mr Hakainde Hichilema of the United Party for National Development (UPND).
We respectfully exhort Mr Kambwili to think before he opens his mouth: is it worth losing one's dignity and self-respect just to earn the ignominy of being recognised as the undisputed Chief "Insultant"?
Is his name becoming synonymous with a vile motor mouth worth the woeful position of Prime Minister under Mr Hichilema in a fantasy opposition alliance government as per the reported promise by the latter?
Sangwapo – The Bad Science Behind a Bad Alliance
The so called opposition alliance is far from a credible entity of proposition, because behind this alliance is a science that cannot hold-it's fake. Quackery!
Zambians have watched this movie before. They recall how under the UDA alliance in 2006, Hakainde cannibalised alliance partners UNIP & FDD by eating into their territories. Both of these parties have never since recovered from the political contamination they received when they came into close contact with Mr Hichilema and UPND through the alliance.
Hakainde has already swallowed Mulongoti & Milupi's parties while Chipimo's NAREP is currently being used as a secondhand tooth pick.
However, Kambwili knows all this but Mr Hichilema has outsmarted him as he knows more than a thing or two about Hostile Take overs.The latter has dangled before the former the carrot of the Position of Prime Minister before the morally deficient NDC Consultant.
The Honourable Member of Parliament for Roan Constituency has demonstrated a rather exceptional talent at being Mr Hakainde Hichilema's useful idiot!
This among many other things just goes to show that the "alliance" has nothing to do with bettering the lives of citizens. It is instead, nothing but a scramble and a rat race for positions; a get-rich-joy ride with national resources at stake; a Sangwapo!
The Opposition Alliance Godfather- "Don Hichie" has already stamped his authority as the sole Presidential Candidate for 2021. Kambwili has duly prostrated himself before "Don Hichi" and the UPND leader has found the portly Insultant's cranium an amusing footstool to rest his feet as his two hoary headed attendants serve him with generous swigs of flattery juice.
Kambwili's Attempts to Occupy State House By Hook or By Crook
There is nothing inherently wrong with harbouring Presidential ambitions; but there is everything wrong with being underhanded and going about it in crooked fashion.
Kambwili has always wanted to be President and his ambition has always been driven by everything alien to virtue and decency.
For instance the nation remembers how Mr Chishimba Kambwili was condemned by late President Michael Sata (MHSRIP) for campaigning during the late President's illness.
As a government and ruling party official at the time, Kambwili was expected and obliged to provide comfort and solidarity to the Head of State during the Late President Sata's illness. But then those expectations would only be expected of people with a conscience – not Kambwili!
He instead chose to engage in a clandestine Presidential campaign right behind President Sata's back. The late President Sata called out Kambwili's wickedness and condemned him before the whole world. An unrepentant Kambwili still roams the earth condemned.
The NDC Consultant is living proof that the only thing worse than a liar is a sadistic liar that's also a hypocrite.
Talking about sadists and the dark arts – it is not uncommon for sadists and masochists to be driven by the esoteric powers. It is not long ago when Honourable Chishimba Kambwili publicly contemplated being driven by Devil's "evil spirits" also known as "Demons" to insult the good Tonga – speaking people. *https://www.lusakatimes.com/2017/08/11/evil-spirits-drove-uttering-tribal-remarks-people-southern-province-kambwili/*
Going by the company he now sucks up to, and the caustic fruit of his lips; one cannot help but wonder whether or not the much touted possession and control by el-diablo's spirits took place.
Is this one of the highlights of the opposition Alliance are promoting on the Zambian Political Scene? They peddle the freak show of a man who blissfully indulges in political copremesis – for the amusement of his newfound barf collecting overseer?
Are these the best kind of politics the opposition alliance has to offer?
Other than opposing everything just for the sake of opposing; what manifestos do these parties & individuals have individually and severally that can match or even challenge the ruling party's manifesto and tangible development efforts so far?
All Brawn and no Brain
Kambwili has the ignoble distinction of having been transferred between a number of ministries within a short space of about six months probably because he proved to be at best clueless and at worst witless: all brawn and no brain.
One of the Ministries at which he messed up was the Ministry of Labour.
The NDC "Consultant" should by now know that job losses can never be blamed on Government like he seeks to portray.
Not even in the past was government to blame whether under President Levy Mwanawasa after Anglo-American dumped Zambia, Rupiah Banda or any other.
The Member of Parliament's
attempt to foment discord in the labour movement is irresponsible and it falls exceedingly short of everything that is decent and honourable. His intellectual cretinism is shocking! He sees problems everywhere – especially when he looks in the mirror.
In such a marriage of inconvenience, little wonder that such a knock engined appliance represents the cream of the alliance.
The Author is Patriotic Front Media Director At the Patriotic Front Secretariat Lusaka
[Read 1,634 times, 1 reads today]