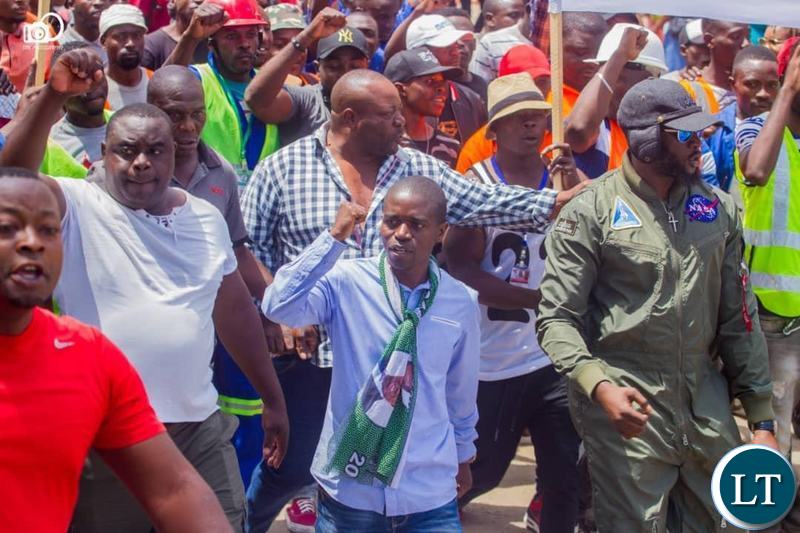 The ruling PF on the Copperbelt says it finds threats by Konkola Copper Mines (KCM) to downsize its operations as a result of the new tax regime as total blackmail to the government.
PF Copperbelt Chairman Nathan Chanda says the reasons being advanced by KCM are not genuine adding that KCM should be truthful and stop issuing threats of job cuts.
Mr Chanda said the PF on the Copperbelt will not accept such empty threats.
"If KCM has failed to run the mine, it is better they pack and go. In the past few months, we had stated that if KCM is not interested in running the mine, let them go. We find the tendency by the mining companies to use threats and blackmail government as myopic thinking. The best KCM can do is to hand over the mine to Government if they are making losses. No normal investor can hold onto a company which is making losses," Mr Chanda said.
"KCM should not subject our people to job losses. When the mines, in particular KCM, are making profits, they remain mute. Now that there is need to pay taxes which will benefit the Government and the Zambian people, they want to issue threats. Such unethical behaviour will not be allowed on the Copperbelt."
Mr Chanda said this is a timely warning to KCM and other mines not to arm-twist and blackmail the government.
"We the PF on the Copperbelt will not leave the issue of KCM to the President alone to handle. We will stand by him and his government's policy decisions. If KCM is not performing according to expectations, we the local leadership are at liberty to question and put on record what we want. And as the Provincial PF leadership, we will petition the Minister of Mines and the Unions leadership to ensure that the rights of the miners are protected through them not losing any jobs. If their want to save money let them fire all expatriate workers who get better salaries than our fellow Zambians," he said.
"Like, His Excellency the President Mr Edgar Chagwa Lungu has said, no form of intimidation will be tolerated from KCM and other mines. Why should KCM protest the new mine tax regime? These minerals belong to us the Zambian people and we can't be subjected to intimidation of job layoffs. KCM should engage the Government through dialogue than these empty threats of downsizing its operations."
He added, "We once again appeal to KCM to reconsider and stop their ill-timed move of cutting down on the workforce. If they can't reconsider their position, let them hand over the mine to Government."
"My advice to Zambians and all political parties is to not politicize this very important issue just to gain cheap political mileage. This is a matter of patriotism and livelihood for so many Zambians. If we love this country and our miners, we need to stand together, put politics aside and make sure our people maximise the benefits from the mines through this new tax regime in order to uplift the living standards of our people and develop our Country in a more sustainable way."
"We know and have information that some of our fellow Zambians and some opposition leaders will be bought in order to be spokespersons for the mines but for us as PF party in the province, we want to stand with the miners and the unions. We don't support Job cuts on the Copperbelt Province but we stand for the mines to pay what belongs to Zambians," he said.