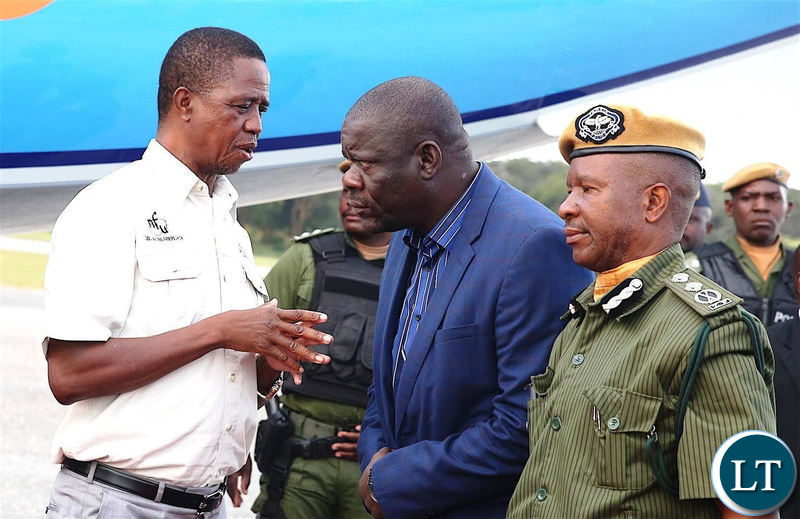 President Edgar Lungu says he does not have full information about former UPND Vice President Geoffrey Mwamba rejoining the Patriotic Front.
President Lungu says as it stands he does not know anything but is yet to get full details on the matter.
Speaking to journalists upon arrival from Luapula Province on Tuesday evening, President Lungu asked whether Mr. Mwamba had resigned.
And when asked whether he has forgiven Mr. Mwamba who has asked for forgiveness for the insults he had been showering on him, President Lungu maintained that he is yet to get full details on what transpired.
And commenting on Lusaka Lawyer Kelvin Fube Bwalya's decision to call the PF presidency, President Lungu says it is normal for anyone to contest the presidency.
Yesterday, Lusaka Lawyer Kelvin Fube Bwalya popularly known as KBF has announced his intentions to challenge President Edgar Lungu as PF Presidential candidate for the 2021 general elections.
Mr Bwalya said that the living standard for the majority of Zambians have dropped to unacceptable levels and cannot be allowed to continue.
Speaking at the Taj Pamodzi Hotel in Lusaka on Tuesday when he launched his book dubbed "Zambia Must Prosper II", Mr. Bwalya appealed to President Edgar Lungu to pass on the mantle of party Presidency to him saying he has fought his race.
Mr Bwalya has also charged that the PF has made a lot of mistakes in the governance system which has resulted in the breakdown of the rule of law.
He further stated that the PF must admit that they have failed the Zambians especially youths who are grappling with the high unemployment levels in the country.
Mr. Bwalya also unveiled what he called a blue print to resolving the country's social and economic challenges.