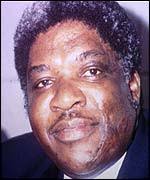 President Levy Mwanawasa is tomorrow expected to leave
for France, where he will attend the 24th France-Africa Summit slated for February
15 to 17.
President Mwanawasa will attend the summit to be held in Cannes, at the personal
invitation of French President Jacques Chirac.
According to statement released to ZANIS this evening and signed by Special
Assistant to the President for Press and Public Relations John Musukuma, Mr.
Mwanawasa would be accompanied by Ministers of Foreign Affairs and Community
Development, Mundia Sikatana and Catherine Namugala respectively and other senior
government officials.
"Mr. Levy P. Mwanawasa, SC, will lead the Zambian delegation to attend the 24th
France-Africa Summit to be held in Cannes, France, from 15 to 17 February 2007,"
read the statement in part.
"President Mwanawasa was invited to participate in the Summit, at the personal
invitation of Frewnch President Mr. Jacques Chirac," read the statement.
The France-Africa Summit, which is held every two years, is a forum for political
dialogue between France andf Africa aimed at creating awareness on critical issues
affecting the development of the African continent.
President Mwanawasa, during the Summit, will participate in various high-profiled
discussions with other heads of state on issues of raw materials in Africa, the
stature of the continent and the information society.
Mr. Mwanawasa will join other heads of state and government to discuss and consider
for endorsement the Report of the African Ministers of Foreign Affairs' conference
held in Bamako, Mali, last month, which would be presented to the Summit.
Mr. Mwanawasa last attended the France-Africa Summit in 2002.
The 24th France-Africa Summit is expected strengthen Zambia's interaction with
France and further open up new areas of bilateral cooperation between the two
countries.
[Read 12 times, 1 reads today]