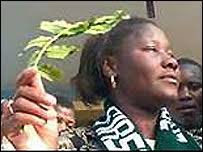 Forum for Democracy and Development (FDD) President Edith Nawakwi has maintained that the sale of the Zambia National Commercial Bank (ZANACO) 49 percent shares to Rabobank of the Netherlands was done fraudulently.
Ms Nawakwi says the Zambian Law does not allow any foreign company to own more than 25 percent shares in the Zambian company.
She told the Zambian News and Information Services (ZANIS) in an interview in Lusaka today that the sale of 49 percent shares to Rabobank of Netherlands was done outside the confines of the law.
Ms Nawakwi, who is also Vice President for the United Democratic Alliance (UDA), said the sell of shares in the ZANACO Bank should have been done according to law.
She further said that there was no formal consultations made between the Zambian government and the Zambian citizenry as regards the sell of the 49 percent ZANACO shares to a foreign Bank.
Ms Nawakwi noted that government should have sold 25 percent shares to Rabobank and not 49 percent shares so that the remaining shares could be sold to Zambian owned companies.
She advised government to sell the remaining 24 percent shares to the Zambian State Insurance Co-operation (ZSIC) and the Zambia Pensions Fund Authority.
Ms Nawakwi has since advised Rabobank not to go ahead with the acquisition of more than 25 percent shares in the ZANACO Bank to avoid swindling the Zambian people.
She stressed that the acquisition of 49 percent shares from ZANACO Bank was not done within the legal framework of the Zambian Law.
ZANIS