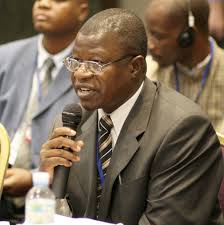 Government has challenged public service workers to rid themselves of corrupt elements in their midst by reporting those involved in corrupt practices to law enforcement agencies.
Tourism, Environment and Natural Resources Minister Kabinga Pande says the onus is on civil servants to ensure that the Public Service is corruption free.
Mr. Pande was speaking when he addressed government workers at the council chambers
in Kasempa today. He said corruption is a cancer that derails national development because public resources are diverted to individual pockets.
Mr. Pande, who is also Kasempa Member of Parliament, urged the workers to come on
board the crusade against corruption by ensuring that public resources are prudently
and properly utilized.
Mr. Pande's sentiments come in the awake of the revelation by President Mwanwasa
that K36 billion has been misappropriated by some civil servants.
Meanwhile, Mr. Pande has announced that a facility that would afford teachers to
access mortgage loans from the National Savings and Credit Bank has been introduced
in all provinces of the country.
He also urged teachers to take advantage of the facility and access the loans
in a bid to answer the accommodation problems faced by the some teachers.
Mr. Pande was in Kasempa on a two-day on the spot check of the impact of floods
experienced in the area.
The heavy rains experienced in the area have threatened human lives and destroyed
both public and private property.
Over 2000 residents have been cut off from health centres and schools
following the submerging of bridges and the destruction of the road infrastructure
in the district.