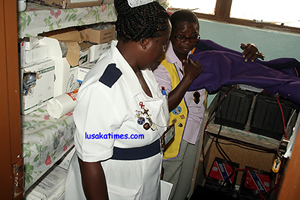 The Lions Club of Mulugushi today handed over a solar system worthy K18 million to Chawama Health Centre.
Speaking at the hand over ceremony, Lions Club of Mulugushi president Enid Sakala said the move is a practical demonstration of the organization's commitment to help communities.
Lion Sakala said the Lions Club of Mulugushi was aware of the challenges faced by the clinic, especially in the maternity wing, due to frequent electricity power cuts.
Lion Sakala said the solar system is aimed at ensuring that the clinic operates smoothly despite the electricity power cuts.
Chawama Health Centre Sister-in-Charge Evelyn Tembo said Chawama Health Centre was servicing the community in Chawama, Msisi, Kamwala, Lilayi, Makeni and many other surrounding areas.
She said an average of 600 deliveries are carried out at the health centre per month, hence reliable power is critical to the health centre.
Sister Tembo said the solar system will help the midwives not to conduct deliveries in the dark which was a danger to the babies and the mothers.
ZANIS/GP/AM/ENDS