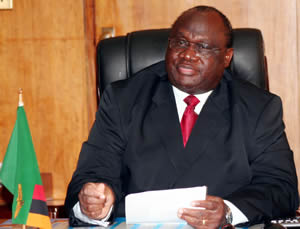 Government has announced that a total of 197, 251 out of a total 301, 427 pupils that sat for the grade seven examinations in 2008 were selected to grade eight representing over five percent increase as compared to last year.
Speaking during the announcement of the results in Lusaka today, Education Minister Professor Geoffrey Lungwangwa said the total number of boys entered for the examinations was 181,515 while that of girls was 150, 764 bringing the total to 301, 427 as compared to 288, 708 in 2007.
ZANIS reports that Prof. Lungwangwa further said the figures of pupils selected to grade eight this year are showing a progression rate of approximately 60 percent for boys and over 70 percent for girls.
He said the total figures for both girls and boys reflected a progression rate of over 65 percent as compared to 60.33 recorded in 2007.
Prof. Lungwangwa said all the girls who sat for the grade seven examinations in North Western and Luapula Provinces have been selected into grade eight with Western Province selecting over 90 percent pass rate.
And the Education Minister said only one case of examination malpractices among the candidates across the country was recorded.
He added that the malpractice involved a head teacher who was found tampering with responses for five candidates in Social Studies and has since been suspended for the offence.
Prof. Lungwangwa also disclosed that a total of 30, 852 candidates were absent from the examination, compared to 26, 469 in 2007.
He said of the total number of absentees, a total of 16, 073 were boys while 14, 779 were girls.
He said Southern, Copperbelt and Lusaka Provinces recorded absenteeism rates of less than ten percent at 8. 53 percent, 7.02 percent and 6.46 percent respectively with the rest of the provinces recording absenteeism rates of over ten percent.
Prof. Lungwangwa said North Western, Western and Northern Provinces recorded the highest absenteeism rate at over 12 percent, 13 percent and 11 percent respectively.
He further stated that Copperbelt province recorded the highest with a total of 37, 738 while Lusaka was second with a total of 28, 942 with Southern Province coming third with a total of 26, 520.
Others are Central Province with 21, 244, Northern Province with 20, 206, Luapula with 18, 412, Eastern with 16, 440 while North Western recorded 14, 295 and Western with 13,462.
And the Education Minister has urged the public to obtain the results from respective schools where pupils wrote their examinations.
He said no results will be given from the Ministry of Education headquarters and the Examination Council of Zambia (ECZ).
Prof. Lungwangwa has also announced that grade eight classes will also open on Monday 12th January 2009 and that the grace period will end on Monday 26th January 2009.
He cautioned that pupils who will fail to report at their respective schools by the end of the grace period will loose their places.
ZANIS/CM/ENDS/MM