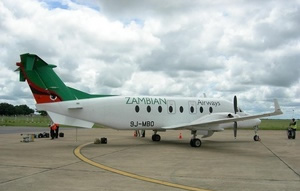 Reuters reports that Zambia's privately-owned carrier Zambian Airways said on Saturday it had suspended operations with immediate effect, citing high fuel costs over the last year-and-a-half and the need to restructure its operations.
The airline said in a notice to passengers at Lusaka airport that it had experienced difficulties after jet fuel rose 100 percent in the last 18 months, increasing its operational costs by 50 percent.
"This created a lot of problems for Zambian Airways as a growing business. In the interest of our stakeholders and our employees, we have decided with immediate effect to suspend all our operations until further notice," it said.
Dozens of passengers flying to South Africa were left stranded, eye witnesses said.
The airline has been operating two flights a day to South Africa and used to fly several times a week to other major hubs in southern Africa.
[Reuters]
[Read 55 times, 1 reads today]