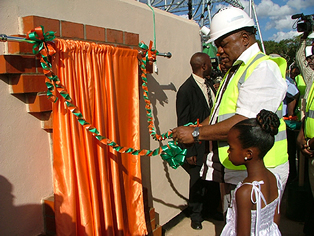 President Rupiah Banda has advised mine investors to seriously consider investing in metal processing locally to make copper exports more profitable .
Mr. Banda said metal processing would add value to the minerals that are being mined in Zambia and exported.
He was speaking when he commissioned the Lumwana Copper Mine in Lumwana, Solwezi today, which is the largest open pit copper mine in Africa.
He said government is ready to partner with investors such as Equinox Minerals, which has exhibited long term desire to invest in the country's mining sector.
"What government expects is for investors in the mining sector to consider investing in metal processing facilities that add value to your metal.
Government strongly believe that time is ripe for investors like you to consider processing the copper you mine and add more value by selling finished products made in Zambia to the same international market," he said
He said government was proud with the perseverance exhibited by Equinox Minerals in fully developing the Lumwana mine project, which started twelve years ago.
President t Banda has since assured the investor that government would partner with the company to further develop the project for the economic benefit of the local people.
The President said government will ensure that it only allows serious investors to set up businesses in the mining sector and not those who only declare interest when the sector is performing well.
He said government was indebted to Equinox Minerals for sacrificing to pump in $US1 billion in the mining development project regardless of the set backs that the copper mining industry was suffering in the recent past.
'"We are proud and feel indebted that during the twelve years of the project development, you sacrificed to pump in $US1 billion which includes the development of modern Lumwana town. This shows the trust you have in our mining industry regardless of the ups and downs," he said.
He said government will consider Lumwana mine project , which is Africa's biggest open pit copper mine, as Zambia's ambassador in efforts of promoting more investment in country's mining investment.
Earlier, Equinox Minerals project Manager, Craig Williams said the company is determined to contribute to the efforts of improving the economic status of local people.
He appealed to government to continue providing incentives that will encourage more investment and performance in the mining sector.
And Solwezi West MP Humphrey Mwanza appealed to government to consider embracing Lumwana Mine as part of the Multi Facility Zone.
Mr. Mwanza said doing so will encourage and enhance performance of the mine to enable it fulfill its social responsibility to the local community.
President Banda also toured the mine plant this afternoon.
He is accompanied by Mines Minister, Maxwell Mwale, Commerce Minister Felix Mutati, Education Minister Geoffrey Lungwangwa, Lands Minister Peter Daka, Minster in Charge of Gender Sara Sayifwanda and other senior government officials.
Lumwana Mine is expected to produce 140,000 tonnes f copper concentrates every year.
ZANIS/SJK/MKM/KSH/ENDS