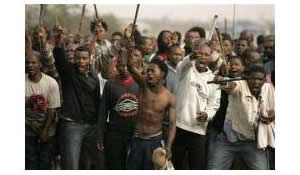 The World Conference against Racism, Racial Discrimination, Xenophobia and related intolerance officially opens in Geneva, Switzerland on Monday.
Vice President George Kunda who was expected to deliver a key-note address during the official opening of the summit will be represented by Justice Deputy Minister, Todd Chilembo.
Zambia's Ambassador to Switzerland, Darlington Mwape,told ZANIS that Zambia will take an active role in the summit debates aimed at abating racism the world over.
Mr. Mwape who is also Zambia's Permanent Representative to the United Nations said the Zambian delegation which arrived on April 14 is actively involved in the preparatory conference meetings.
He said he had no doubt the delegation in collaboration with delegates from the other countries will do a commendable job.
The Conference will review progress and assess the implementation of the Durban Declaration and Programme of Action (DDPA).
Adopted by consensus at the 2001 World Conference against Racism (WCAR) in Durban, South Africa, the DDPA is a comprehensive, action-oriented document that proposes concrete measures to combat racism, racial discrimination, xenophobia and related intolerance.
DDPA embodies the firm commitment of the international community to tackle racism, racial discrimination, xenophobia and related intolerance at national, regional and international level.
It reasserts the principles of equality and non-discrimination as core human rights, thus transforming .
The DDPA also calls for active involvement of the international and non-governmental organisations, political parties, national human rights institutions, the private sector, the media and civil society at large.
It also calls for the universal ratification of the international Convention on the elimination of All forms of Racial Discrimination and its effective implementation by State Parties to the Convention.
Specific recommendations are formulated to combat discrimination against Africans and persons of African descent, Asians and persons of Asian descent, indigenous peoples, migrants, refugees, minorities, the Roma and other groups.
The DDPA emphasises the importance of preventive and concerted action, especially in the field of education and awareness-raising, and calls for the strengthening of human rights education.
It outlines measures to address discrimination in the fields of employment, health, policing and education and also calls on states to adopt policies and programmes to counter incitement to racial hatred in the media, including the internet.
The DDPA further acknowledges that slavery and the slave trade are crimes against humanity and should have always been so. It expresses regret over the fact that the slave trade and colonialism contributed to lasting social and economic inequalities.
Concerning the Middle East, the DDPA expresses concern about the plight of the Palestine people under foreign occupation and recognises the inalienable right of the Palestine people to self-determination and the right to an independent state.
ZANIS/VH/MKM/ENDS