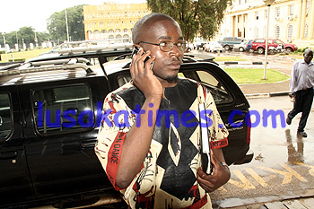 National Revolution Party (NRP) has asked President Rupiah Banda not to bow to public pressure to have Transport and Communication Minister, Dora Siliya, dismissed from government.
Party President Cosmos Mumba said calls from certain quarter of society to have Ms Siliya relieved of her duties will defeat the purpose of reconciliation and worsen the political tension in the country.
He said his party is of the view that those calling for the Ms Siliya's dismissal are doing so out of personal vendetta .
Dr Mumba said dismissing the minister will defeated the country's declaration of Christian nation that is anchored on forgiveness, reconciliation, justice, love and peace.
He told ZANIS in a telephone interview to today that the Zambian citizenry should be magnanimous and forgive Ms Siliya considering that she is not a professional in her ministry and is the first offender.
On Thursday, the Tribunal lead by Justice Dennis Chirwa presented its findings to President Banda .
Former Transport and Communication Minister, William Harrington and 10 Civil society organizations had petitioned the Chief Justice to set up tribunal to probe Ms Siliya on the allegations leveled against her.
In another development, Dr Mumba has asked the Registrar of Societies and other security agencies to punish individuals that are using unregistered organizations to champion their political ambitions.
He alleged that the newly formed Leftist Progressive Party (LLP) led by its interim president, James Lukuku, is illegal and must not be allowed to operate in the country.
Dr Mumba charged that Mr. Lukuku and his party can therefore not claim to represent the interests of the country and the youths in particular, for failure to respect the laws that govern the operations such entities.
He has since made a passionate appeal to well meaning Zambians to be wary of disgruntled individuals forming organizations to benefit themselves on the pretext of championing the course of the poor in the country.
He said the role of the opposition political parties is cardinal in any given democratic dispensation as it offers checks and balances to the party in government which should not be done at expense of the country' developmental programme.
ZANIS/JT/MKM/ENDS