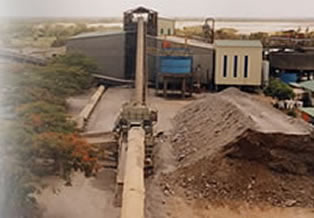 Operations at Nampundwe Mine in Mumbwa District will come to a halt on Monday 4th May due to restructuring in the KCM group of companies.
This has been announced by KCM Group Human Resources manager Susan Ziko who said the pyrite producing mine will remain closed for at least nine months before re-opening.
Ms Ziko said this when her team briefed Mwembeshi Member of Parliament Edward Kasoko at the constituency office on the future of Nampundwe Mine.
She however said none of the 321 miners will lose their jobs as KCM management has taken necessary measures to ensure the future of the miners.
The KCM human resource manager said in a bid to come out of the current global economic crunch, KCM has found it fit to transfer the Namundwe Mine Larox Filter machine to Nchanga Mine to help in the production of cobalt.
Ms Ziko however said KCM has already placed an order for a new Larox Filter from Sweden which will be installed at Nampundwe.
The KCM official said the Nampundwe miners will be asked to stay at home from Monday with options to choose which KCM mine on the Copperbelt they would like to be transferred to while a skeleton staff will be chosen to keep Nampundwe Mine afloat.
Ms Ziko said there is also an option for those who want to be separated from KCM operations.
But Mwembeshi Member of Parliament Edward Kasoko said the Larox Filter from Nampundwe can only be taken to Nchanga after a memorandum of understanding has been signed between his office, the Minister of Mines, Mine workers unions and KCM management to ensure the promise by KCM to re-open Nampundwe after nine months is adhered to.
He said this will be done in order that if KCM does not stick to the promise of re-opening Nampundwe after nine months, the Nampundwe community will be free to pursue the case in the court of law adding that no matter how long the case will take, the community will eventually win.
Mr Kasoko said this has been done because the community does not trust KCM which keeps changing its goal posts.
ENDS/MM/AM/ZANIS
[Read 23 times, 1 reads today]