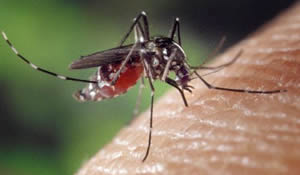 Government's strategy to working with partners and communities has led to a positive response to reducing malaria by 66 per cent in the country.
Ministry of Health Spokesperson, Dr Kamoto Mbewe, said the world health assessment has proved that malaria has reduced in Zambia.
Dr Mbewe said government has worked very hard with its partners while the community has responded well to reduce the number one-killer disease through effective measures, such as taking the right drug, to treat the diseases.
Dr Mbewe added that more people in the country have resorted to using mosquito nets, especially the treated ones, hence the good result of reducing malaria.
Dr Mbewe, said this in an interview with ZANIS in Lusaka today.
He pointed out residue spraying in most residential area has contributed to mosquitoes dying, hence reducing the transmission of malaria.
Dr Mbewe also said the use of effective drugs, such as coartem has also reduced malaria cases because it works very effectively.
Dr Mbewe said earlier, people were using chloroquin which later became resistant, resulting to increased malaria cases and loss of lives.
He also commended the Malaria Control Centre for a deliberate policy to reduce malaria through free distribution of treated mosquito nets in most urban and rural areas, with specific interest to expectant mothers and under five children.
Dr Mbewe said to reduce a disease such as malaria, it is always important for government to work hard with its partners, while the positive response from the community makes everything easier.
Dr Mbewe said it is important to keep the figures low so that few malaria cases can be recorded, and expressed optimism that malaria could be eliminated.
He observed that if people unite, even the cases of HIV and AIDS would reduce drastically and the war against it would be won.
ZANIS