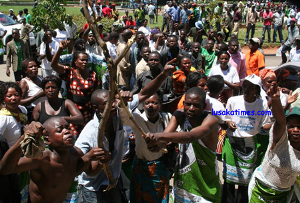 The PF has refuted allegations that its supporters are causing
violence in Chitambo constituency by-election campaigns in Serenje district.
Lusaka Mayor, Robert Chikwelete, has said he is disappointed that the MMD has implicated him in the violence in which two supporters of the ruling party at Chalilo in Chitambo constituency were on Sunday beaten up by suspected PF carders.
Meanwhile Central Province Police Commanding Officer, Simon Mpande, has warned that anyone who will cause lawlessness in Chitambo constituency by-election will face the law.
The MMD complained bitterly on Sunday after two of their supporters were beaten by PF cadres.
In an interview at Chalilo yesterday, PF constituency youth Chairperson, Katobaula Mpundu, said the PF was provoked by the victims who were beaten.
He explained that Morris Mwansa and Lloyd Kabanga who were beaten up strayed into the PF camp in a drunken state and started making noise demanding to be given nshima.
"We were not there when it all started but what we were told is that the two MMD cadres were drunk and provoked those that remained at the camp. How can they come drunk and start making noise at our camp. It is unfortunate because we have been peaceful all along," he said.
Mr Mwansa and Mr Kabango were admitted to Serenje district hospital for observation on Sunday and medical officer, Dr Jackson Kasela, discharged them yesterday after attending to them.
Mr Chikwelete said it was unfortunate that the MMD allegedly implicated him in the violence.
"It is shameful for the MMD to start talking about cadres. I was not even anywhere near when the incident happened and I am one person who cannot support such," he said.
He said he would not be involved in politics as he was above politics by virtue of the mayoral position he holds and charged that the MMD were allegedly behaving like that because they knew they were losing the election.
Mr Chikwelete said he did not even travel to Serenje to campaign but his trip was purely on family affairs to see his parents and other relatives at the village at Chalilo, adding that be travelled with his two nephews and one young brother who were not even cadres.
The Lusaka mayor charged that his life was in danger and that whatever would happen to him the MMD would be accountable.
Mr Chikwelete also said police should not work under instructions but should investigate matters and act professionally.
The Police Commanding Officer, Mr Mpande, yesterday described the situation in Chitambo as calm, saying police were watching vigilantly and would not tolerate any lawlessness.
Mr Mpande, who just returned from Chalilo, however said anyone who will cause violence will face the law.
Chief Chitambo, whose palace is within Chalilo area, condemned the violence and called for peaceful campaigns by all participating political parties.
Chitambo parliamentary seat fell vacant after the death of Nasim Hamir on May 1 this year and has four candidates vying for it in the by-elections scheduled for next month on 13th.
These include Dr Solomon Musonda for MMD, Evans Chola for FDD, Chanda Mutale for PF and Timothy Kapolo for UNIP.