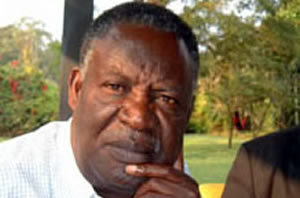 Patriotic Front (PF) president, Michael Sata says the conviction of Post editor-in-chief Fred M'membe on contempt of court was predictable because government has always wanted to silence him.
Mr.M'membe was this morning found guilty by Lusaka Magistrate David Simusamba for contempt of court together with the Post newspapers in connection to an article authored by US-based Zambian professor Muna Ndulo titled "The Chansa Kabwela case:A Comedy of Errors".
But Mr Sata said that the MMD have always wanted to silence Mr. M'membe.
He said the court's guilty verdict for the Post editor-in-chief was expected,adding that there is nothing strange about it.
The PF leader noted that the MMD government has made it clear that they wanted to silence the Post newspapers and Mr Mmembe.
Meanwhile a PF cadre who was shot in the head by Health Heputy Minister Dr Solomon Musonda in Chitambo yesterday has been rushed to the University Teaching Hospital for specialist treatment.
Jackson Musaka was transferred to the UTH today were he was immediately rushed to the theatre to be operated upon.
And Sata has questioned why government is protecting Dr Musonda who he said is dangerous person.
Mr Sata said Dr Musonda is a danger to the society and described the shooting incident as unfortunate.
The Health Deputy Minister shot the victim who was in the company other suspected PF cadres after they allegedly tried to attack him.
[ QFM ]
[Read 9 times, 1 reads today]