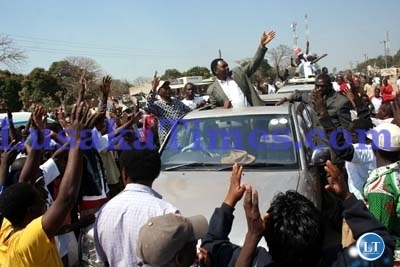 UPND President, Hakainde Hichilema, has bragged the UPND has won more parliamentary seats than any other party in the last 12 to 15 months.
Congratulating Alliance for Democracy and Development interim President, Charles Milupi's victory in the just ended Luena Parliamentary by-election, Mr. Hichilema said the UPND accepts the loss, adding that other parties must also be given chance to win other parliamentary seats in a democracy.
He said in every election, there has to be a winner and a loser, and that UPND, MMD, and other parties that contested the election were losers in this case, and the ADD was the winner.
He said the UPND is not aggrieved by the lose because it has won the majority seats in parliament in the last 12 to 15 months.
He said the UPND is the only party that has gained more parliamentary seats, as opposed to the ruling MMD which has been retaining seats in parliament.
He added that what is important in an election is to gain a seat and not to retain it.
He said while Mr. Milupi must be congratulated for emerging winner in Luena, there is not much impact because he merely retained his seat.
QFM