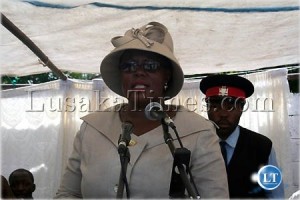 Education Minister, Dora Siliya has shunned officiating at the University of Zambia UNZA graduation ceremony for the second consecutive year.
UNZA today held the 40th graduation ceremony without the presence of any official from the ministry of education and 1,941 students graduated today in various fields.
Speaking during the graduation ceremony UNZA vice chancellor, Professor Geofrey Simukanga highlighted the continued infrastructure challenges facing the institution.
He said the problem of student accommodation and lecturing theaters has been a never ending challenge for the highest learning institution in the country.
Professor Simukanga also noted that the institution which has a total student population of 13,000 with 10,000 of those on fulltime, has been struggling to accommodate the students because the institution only has the capacity to accommodate 3,243 students.
And UNZASU president, Duncan Nyirongo challenged the National Constitution Conference NCC to ensure that the economic, social and cultural rights are included in the constitution.
He further questioned government's decision to increase the retirement age when the unemployment levels among the youth in the country are high.
[ QFM ]