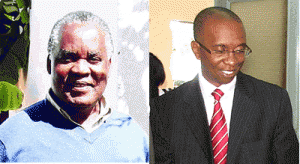 THE LAW Association of Zambia (LAZ) has reprimanded senior Lusaka lawyer Roger Chongwe over his recent public attacks on the Judiciary. This comes a week after former Patriotic Front (PF) secretary general Edward Mumbi challenged LAZ to rise above petty politics and stop its members like Dr Chongwe from attacking the judiciary.
Mr Mumbi said last week that LAZ should stop Dr Chongwe from attacking High Court judge Evans Hamaundu over his ruling on the registration of former president Chiluba's London High Court judgment.
LAZ president Stephen Lungu said in Livingstone yesterday that the association had written to Dr Chongwe to reprimand him over his recent attacks on the judiciary and warned that it would not take kindly to lawyers that willingly attacked the judiciary in public.
Mr Lungu was answering questions at the on-going state advocates workshop being held at Livingstone's Protea hotel. He said it was sad that senior legal practitioners like Dr Chongwe had continued to attack the judiciary which they were part of.
"As for the case of Dr Roger Chongwe in the case involving Sebastian Zulu, I want to say that it was unfortunate for Dr Chongwe to go public and talk against the judiciary. We, as an association have since written to him reprimanding him over the action. We have rules and regulations as a legal entity and we expect senior lawyers, of all practitioners to adhere to them.
"The association will not take kindly to lawyers insulting the judiciary. It is baffling and annoying for lawyers to speak against the judiciary in public like that. "When you insult the judiciary, you are insulting yourself," he said.
He warned lawyers and other legal practitioners against issuing derogatory remarks or insulting the judiciary saying the association would not spare them once found out.
Mr Lungu said whichever lawyer attacked the judiciary in public would face the wrath of the association. He urged lawyers to always maintain a good relationship with the judiciary.
"A lawyer once admitted, becomes an officer of the court and has a responsibility of protecting the court and ensuring that the rule of law is maintained at all times. If you insult the judiciary, you are insulting yourself," he said.
Earlier in his presentation, Mr Lungu said his association placed great emphasis on the education of lawyers to ensure those who aspired to become lawyers attained the requisite standards.
He said LAZ would continue to emphasise on the upholding of the rule of law and compliance to the Constitution of the country.
[Times of Zambia]