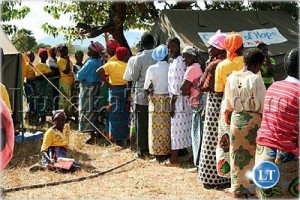 A Survey on sexual behavior in Zambia has revealed that only 24 per cent of people are accessing Voluntary Counseling and Testing(VCT)service in spite of 99 per cent of the teenage and adult population having had come across information on HIV/AIDS Pandemic.
The survey further reveals that out of the 99 per cent, only 4 per cent of the people are ignorant that HIV/AIDS can not be cured.
The survey has been conducted by Corridors of Hope (CoH), an institution that provides VCT services and currently operating in 10 districts around the country.
CoH Program Director, Leslie Long disclosed this in newsletter published in December.
Long said the majority of people among the 24 per cent who have had accessed voluntary HIV test, received the test and received the results are in the ages between 15 and 49.
Commenting on the low turn out of people who go for VCT as compared to 99 per cent of people who have the information on the pandemic Long described the difference as an amazing gap.
"It is a puzzling gap.Why is there such a gap between the near universal knowledge of HIV/AIDS and the relatively small percentage of those who have actually chosen to learn their status," Long said.
CoH project has been working in Zambia for over 10 years.
And Livingstone General Hospital Director, Namani Moonze said the hospital is experiencing a problem with re-entrants of TB-AIDS cases due to incoherence in taking medication by patients.
Mr.Moonze said most patients get back to the Hospital on account of medical apathy.
He said some of the patients stop taking medication and seek God's intervention but in the end they come back to the hospital.
80 per cent of TB patients are co-infected with HIV/AIDS according to the 2007 AIDS Report published by World Health Organization (WHO).