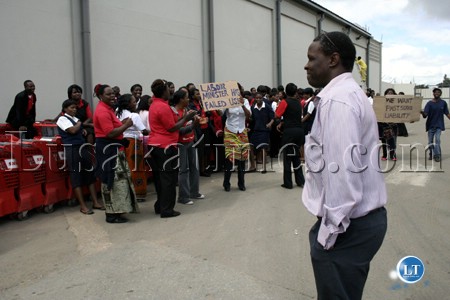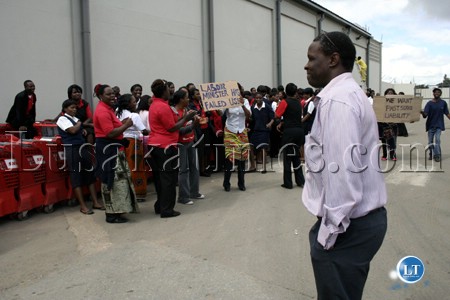 The Zambia Congress of Trade Unions (ZCTU) has strongly condemned the decision by Shoprite management to dismiss all workers who have been on strike in the last four days.
ZCTU Director of Public Relations and International Affairs Martin Chembe in a statement released to QFM today says the trade union demands the immediate and unconditional reinstatement of all the fired workers.
Mr Chembe says it is immoral for Shoprite management to fire workers when government through the ministry of Labour and Social Security is meeting the management and the union to try and find a solution to the situation.
He says ZCTU is aware that Shoprite management and the National Union of Commercial and Industrial Workers (NUCIW) are currently holding meetings with the ministry of Labour in an effort to resolve the situation.
He adds that the action by Shoprite management clearly shows that it is has little regard for workers' welfare and the efforts being made by government to find a lasting solution.
Mr Chembe further says that it also shows that management does not respect labour laws governing industrial relations and has since urged government to act quickly and decisive on the issue.
He states that the labour movement will not allow foreign investors to focus on profit maximization without paying any attention to the welfare of workers, adding that workers should not be used as tools for production.
Mr Chembe has since appealed to dismissed Shoprite workers to remain calm as the union deals with the situation.
QFM