Government says the agricultural sector acts as an engine block for most low-income countries in Africa and contributes about 50 percent of their Gross Domestic Product (GDP).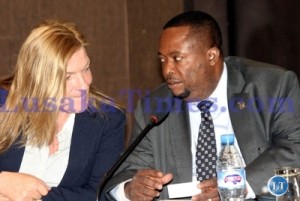 Science Technology and Vocation Training Minister said this is the more reason why the Common Market for East and Southern Africa (COMESA) region member states should take a holistic technological approach towards improving the agricultural sector.
Mr. Daka explained that however, many countries in Africa were facing challenges in improving the agricultural industry due to the absence of farming subsides, modern hybrids and the appropriate modern farming equipment.
Mr. Daka said this in a speech ready for him by his Deputy Given Mun'gomba during the official opening of the National Consultative Workshop on Draft Bio safety Policies and Guidelines for (COMESA) region held at Inter Continental Hotel in Lusaka today.
He explained that the use of modern bio safety was the surest way of providing the CMESA region countries with the safe transfer and handling of Genetically Modified Organisms (GMOs) that may have adverse effects on the environment and human health.
He noted that the guidelines were also helpful in providing the means of assessing the food safety of GM foods.
Mr. Daka added that most COMESA member countries were parties to the Cartagena Protocol on bio safety, and that they were obliged to domesticate the policy into national law.
He also disclosed that Zambia had made strides in developing the National framework for bio safety, resulting in the establishment of the National Bio safety Authority (NBA) charged with the responsibility of shaping the bio safety regulations, guidelines and application procedures.
The Minister further called for concerted efforts from all stakeholders if the region was to benefit from bio technology in a sustainable way and in reducing the impact it might have on the farmers or trade.
And Alliance for Commodity Trade in Eastern and Southern Africa (ACTESA) Chief Executive Officer Cris Muyunda said, his organization was cognizant of the controversies surrounding the GMOs in Africa and beyond.
In a speech ready for him by the Director in chare of Trade and Markets Bridget Chilala, Dr. Muyunda stated that it was for that reason that ACTESA would to dialogue and discuss with the various stakeholders in providing information to the public about the issue.
He also emphasized the need to include a diverse crops on bio tech such as cotton and sunflower, which are mainly used for fibre.
He urged the delegates at the workshop to provide effective and constructive solutions to the issue of harmonizing regional interventions relating to all bio safety laws.
ZANIS