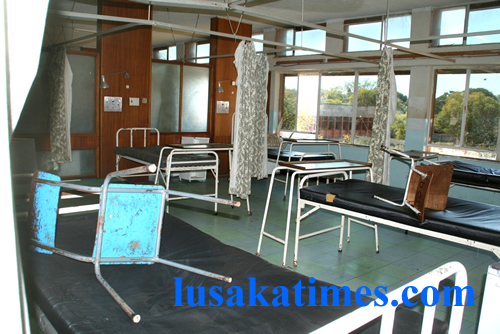 Lusaka Province Minister Miles Sampa has ordered health personnel at the University Teaching Hospital (UTH) to stop making patients sleep on chairs and that they should change their mind set and work culture despite the many challenges at the institution.
Speaking after he toured some of the wards at UTH today, Mr. Sampa said he is aware of the problems that health personnel are going through but assured that government is working hard to address the situation.
ZANIS reports that Mr. Sampa stressed the need for health personnel to improve on their etiquette in their operations as it is key to the provision of quality health care.
Mr. Sampa who described the situation at the University Teaching Hospital, Filter Clinic Department as desperate urged health personnel to treat every patient equally and with respect.
Mr. Sampa said it is unfortunate that the current government has inherited the challenges that have been left unchecked by the previous administration.
Mr. Sampa said government was doing everything possible to beef up the numbers of the existing staff in the health sector to enhance health care service delivery.
Mr. Sampa has further urged all medical personnel to make a difference and maintain cleanliness in their wards.
And UTH Customer Relations Officer Mwenya Mulenga told ZANIS in an interview that the institution was doing everything possible to deliver services to the people despite the many difficulties and challenges it was faced with.
ZANIS