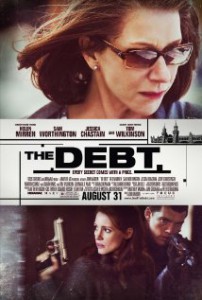 The espionage thriller begins in 1997, as shocking news reaches retired Mossad secret agents Rachel (Helen Mirren) and Stephan (Tom Wilkinson) about their former colleague David (Ciarán Hinds). All three have been venerated for decades by their country because of the mission that they undertook back in 1966, when the trio (portrayed, respectively, by Jessica Chastain, Marton Csokas, and Sam Worthington tracked down Nazi war criminal Vogel (Jesper Christensen) in East Berlin. At great risk, and at considerable personal cost, the team's mission was accomplished – or was it? The suspense builds in and across two different time periods, with startling action and surprising revelations
PRO'S
The movie had a great cast and they all played their roles perfectly especially Helen Mirren (Rachel Singer).
(Spoiler alert) The stalking of  Jesper Christensen (Vogel) is well handled, the risks Rachel takes while posing as a gynaecological patient are hair-raising, the attempt to get him across the Berlin Wall is white-knuckle stuff.
 Jesper Christensen's role as the  unrepentant Nazi is a hideously tormenting figure.
CON'S
The story moved a bit to slowly at times
FAVORITE QUOTES
Young Stefan: No matter what, the truth stays in this room.
David: What if we could go back. Would it be different?
Young Rachel: I'm not brave, I'm terrified.
CONCLUSION
Very good movie with a gripping story that will keep you at the edge of your seat. If you like your spy thrillers tense, gripping and meaningful, The Debt should be on the top of your must-see list.
RATING
3 out of 5

BY KAPA187
[Read 14 times, 1 reads today]