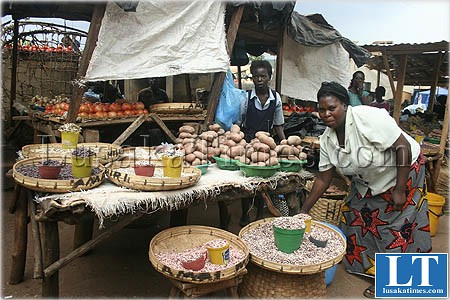 Zambia's consumer inflation sharply slowed in December on lower food prices , the Central Statistics Office said said today.
Inflation was at 7.2 percent year-on-year in December from 8.1 percent in November and was expected to end the year at 7 percent, the CSO said.
"The decrease is mainly attributed to a reduction in some food prices," the statistics agency said.
The Consumer Price Index (CPI) used to compute inflation covers three series, namely, the Metropolitan Low Income Group, which covers Low Income households in the urban areas, the Metropolitan High Income Group, which covers High Income households in the urban areas and the Non-Metropolitan Group, covering households in rural areas.
The Metropolitan areas comprise the 10 major towns. These include Livingstone, Lusaka urban, Kabwe urban and all the Copperbelt towns. The Metropolitan areas are further classified into Low and High Income households. All the small towns and the rural parts form the Non-Metropolitan.
And Zambia expect GDP growth to drop to 6.5 percent in 2011 from 7.6 percent last year, with lower expansion seen in the primary sector.
"The slower growth in the primary sector is attributed to the expected smaller increase in the mining output," the CSO said.
It said Zambia had recorded a 315.9 billion Zambian kwacha surplus in November 2011 compared with a 187.5 billion kwacha surplus in October