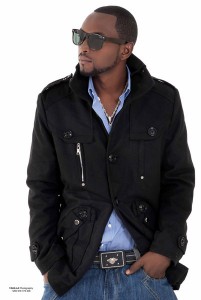 Starn is an R&B Gospel artist,Music producer, Actor and Entertainer based in Zambia .Founder of the record label "Lola Records." Starn has always been known for his unique ministry and good delivery in his music .A Praise and Worship leader in his home church(Capital Christian Worship Centre), Starn's heart of worship is a challenging and yet encouraging act to the youths of this generation .His unwavering passion for God is so inspiring both to the young and the old who come in contact with his music .His music Career started in 2004. He dedicated his time to learning the Piano,drums and Bass guitar.He then went on to Record his debut album in 2006 at a local renowned studio called "Kula Studios".
The album was assosciated with Local hits like Nimwebo mweka,Filapwa ,Never be the same .The album was launched 3years later in Lusaka and Livingstone in 2009.
After a hiatus,he then got back into the studio,but this time many things were different, because at the time he recorded from his record Label and Produced his own album.Early 2011, starn was busy touring some parts of the country to give his fans what they deserved .The album has hits on radio already as follows,Hallelujah, Favor,Lsk Party Feat:78 Infinity and Rest Feat: Nana & N.o.t.
In 2009, Starn starred in a short movie called the "Zed Crew"
Which made it for the Cannes Festival that year.Also featured in a series called My Country…He is now the Founder and owner of The Record Label "Lola Records"
Starn is scheduled to launch his highly anticipated album "Who I am" on the 25th March 2012,where more than 3000 people are going to witness the launch of yet another great album.
Kapa187: Tell us about the moment when you decided that music was something that you wanted to do with your life.
Starn: Music wasn't really what I wanted to do,I always wanted to work for the UN as secretary General,lol…Was greatly inspired by Koffi Anan, so I wanted to study Business Administration, which I studied at the University of Zambia but then I did it because I wanted the knowledge to run my own Business . But I felt there was no struggle whatsoever for me to do music and I loved it. Therefore, the moment came and I immediately left my home town to the capital city to pursue that dream of being an R&B Artist.
Kapa187:  Being a praise and worship leader at your church , is all the music you make gospel or do you do other kinds as well?
Starn: Very sensitive question, well that depends on one's definition of what Gospel music is, if it Good news then YES all my Music is Gospel ,lol…I have love songs on my new album, but the context is Biblical, its not the drop it on me kind of love songs…lol
Kapa187:.How did it feel like when you were recording your first album in 2006 and how was the response to the album?
Starn: Recording my first album was like very interesting for me because it was the first time I was stepping into the studio to record. I had a lot to learn, was quite young as well, I was about 20 or less,the feeling was a bitter -sweet kind of experience .Sweet that I was beginning to live my dream, bitter because the route wasn't so friendly for me, it was very hard. The response to the album was overwhelming for me, cause it was my first time I was being played on air.(Radio) and Tv and my single "Filapwa" became so big both in Christian and secular environment. The album gave me the exposure I needed but the sales were terrible, did not have any distribution deals whatsoever .
Kapa187:  How did it feel to be in the movie Zed crew , how did you get the part.
Starn: Woow "Zed crew" at first I wasn't excited about it, but later on everything started moving at a pace we all couldn't understand . I got the role of "starn" in the movie, a good friend to the main staring "Hong" because even in real life "Hong The Lyricist" is my very good friend. Also the time the E-mail came concerning the movie I was with him. I had been acting even before but "Zed Crew" made me become aggressive at it. The Cannes festival was something I never thought I would ever come any closer to, it was something way out of my thought line. But it was an achievement for me personally and made me pursue acting aswell seriously. From Zed Crew I went on to be in a series called "My country" as "Brian" a spoilt school boy from a very rich background, naughty boy, lol…a sensitization program of the APRM (African Peer Review Mechanism)
Kapa187:  The movie was showcased at the cannes film festival in france , that give a lot of exposer .Is acting something that you will continue to do?
Starn: Well, acting is something I started before I started singing,so I definitely wanna act.
Current am considering starting my own Tv drama series by mid this year. Will fill you in later on the details.
Kapa187: What can your fans expect from your new album , how will it differ from your previous one
Starn: My new album is entitled "who I am" so my fans should expect "Me" on the album on nicely produced beats…
-my new album is different from the previous in many ways…
1. I have grown in my skills, my spiritual stance and many other ways I can't manage to explain.
2. Also three quarters of my album was produced by me, so I gave my music the Feel I wanted, played the instruments I felt were appropriate.
3.My album is MOSTLY in English which is one thing Zambian artists don't do but since my few singles I have noticed a lot more new and old artists both Gospel and secular joining in. To be honest I think the buzz about this INTERNATIONAL album is so much than my previous album which was mostly in venacular
4 . And I have grown as an Artist with so many looking up to me, hence my album is professionally done.
Kapa187:  What has been the best moment and worst moment of your career.
Starn: I don't think I have yet seen or experienced the best moment of my career, but it is yet to come. And one of that is hosting a show at Mulungushi International Conference Centre. For me that's a dream come true, cuz the venue is so classy and expensive .But by the grace of God, am having a concert there called "Starn's Gat The favor Concert" on the 25th March where we expect more than 2000people.
Worst moment was when my record deal on my last album tumbled. It took my career back to Zero. After having a number of shows around the country I came back home with totally nothing. We had so many good plans for my career but it never worked out. That was the worst moment in my music career. But I had to pick up the pieces and that's how I started my own record label called "Lola Records" and am the first artist under Lola Records but am currently producing new talent a group called "Immaculate" and an R&B artist called "Songbird" .Everything works out for Good I guess, lol.
Kapa187:  What do you thing is the biggest misconception about gospel artists
Starn:  Gospel artists are sometimes thought of as perfect never ever making mistakes. But that's not true, they are just vessels God uses. I feel that's the biggest misconception about Gospel artists.
But also gospel artists tend to forget the purpose of their music ministry and become so engulfed in making a Hit song. Not saying we are not supposed to produce good music, I for one are particularly known both in the christian and secular environment to be a perfectionist in music. What am saying is that God hasn't called us to be FAMOUS but to be GREAT, you can be very famous but with no substance or less to offer but when you are great, you are well balanced in every way or atleast most of the ways.
Kapa187:  Do you have any hidden talents ?
Starn:  Hidden Talent, mmmmhhh not really sure..lol…let me see…Can play Drums,Piano and Bass guitar.I think that's all.
Kapa187: Any last word for your fans….
Starn: Last words to my fans and would be fans are. Who says you are not good enough? Whoever it is they are just scared of you, live your dream today.And get in touch with me on facebook by joining my Group
"Starn Fanclub" or like my page "Starn"
Get free music on. www.reverbnation.com/starnworld
THE MUSIC
starn ft The lyricst,innocent & StevieG – Chipolopolo
Great song to celebrate Zambia winning the Africa Cup.
Advert for upcoming concert 

BY KAPA187
[Read 151 times, 1 reads today]