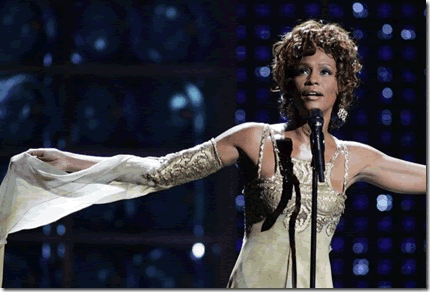 By A Kasonde
On Saturday, 11th February 2012 what had started as a rumour sadly turned into reality. The legend that was Whitney Elizabeth Houston died unexpectedly and in yet to be explained circumstances when she was found motionless in a bathtub. So in less than 30 minutes (between the time she told her team she was going to have a bath and the time they found her helpless) the lady, who had a 3 decade entertainment career and who to many was simply known as "the Voice", was no more.
Whitney was not an average American singer with a scripted background. She was born on 9th August 1963 in Newark, New Jersey – a town that would later, befittingly, provide her final resting place. She came from a middle class family. Her father was an Army Serviceman and Entertainment Executive while her mother Emily known by her friends as Cissy was a gospel singer and choir director at her local church. As expected, Whitney was raised with strict Christian values with a passion for music. She grew up with stars because at just 5 years of age her mother along side her cousin Dionne Warwick were performing as backing singers for the King that was Elvis Presley. And when only 12, Whitney was asked to sing lead vocals in the Choir at the Sunday service in her local Church – New Hope Baptist Church.
However, two years later Whitney was singing backup in her mother's cabaret act. Whitney's mother always knew that her daughter would be big in the music business and that she had an amazing voice. But she was adamant that Whitney first needed to grow through life, do her school, go through teenage life and then if something came up when she was 18 that would be Whitney's decision to make. Indeed many people who knew Whitney at the time were waiting for her first big music break but when the break came, it was not a music break Whitney and her friends were waiting for. Instead, a gentleman working for Click Modeling Agency spotted Whitney in Midtown Manhattan and thought she would be a huge success in modeling.
Whitney's face went on to feature on the cover of Seventeen Magazine making her one of the first African American girls to feature on the influential magazine of that time. Her striking looks and girl next door charm made her one of the most sought after teens of her time. Apart from Seventeen magazine, she also featured in Cosmopolitan, Glamour and Young Miss, and also featured in a number of commercials.
However, and despite her success in modeling, the now 18 year old Whitney always felt that music was her first love and so she went back to back her mother in the cabaret act. It was during one of these acts that an 18 year old Whitney was spotted first by Gerry Griffith then as a Local Music Promoter who went on to be an Executive at the influential Arista Records – a records production company headed by Clive Davies. Griffith took Whitney to Davies and persuaded him to listen to her. The music mogul had no second thoughts about Whitney. He knew that he had struck gold and immediately signed her.
In April 1983, Whitney signed her first music contract – a one year contract with Arista Records. It was a partnership that was to last a lifetime for Whitney.
The then 19 year old Whitney was taken on a TV show to perform for the very first time and when she did, it was clear that her appeal was not just black or white or pop or Rn'B …she had a general appeal to everybody. Whitney's self-titled debut album was released over 27 years ago and sold more than a million copies in less than 6 months in America alone. Whitney was well and truly all the way to super star status with only her first album. But it was her single Saving All My Love For You that introduced this young girl who could do no wrong in the recording studio. She has been described as being like Cinderella in this fairytale where she is the beautiful princess who could do no wrong in the recording business. When her first album reached the store shelves, people were simply astounded by her astonishingly powerful voice. The single became an instant classic.
Her second album simply titled Whitney released in June 1987 put her doubters, if any, in their place by not only churning out million more copies and debuting at No.1 but by also producing yet more huge all weather songs such as the feel good I Wanna Dance With Somebody, the mellow Didn't We Almost Have It All, the dance ballad So Emotional and the healing Where Do Broken Hearts Go.
Her career in the 80's was a pure success and she had awards and Grammys to show for it. It was a case of everything she touched turning into gold and platinum. She was a huge success all around the world. At 27 Whitney was invited to sing at the 1991 American Super Bowl and didn't she rock as she mesmerised the audience in and out of the Tampa stadium when she sang the rendition of the Star Spangled Banner – the American anthem. Due to the overwhelming success and response to her performance, Whitney went on to produce the song as a single and it went on to peak at No. 20 making her the only act to turn the national anthem into a pop hit of that magnitude. Whitney went on to donate all the proceeds from the song to the American Red Cross.
Suddenly, Whitney was the toast and talk of town and huge successful artists were queuing to line up with her. However, it was not just the music industry that was taken by storm, the reserved and respected film legend, Kevin Costner had to delay his movie in order to have her star in it and when she did, the blockbuster that is The Bodyguard was a huge success. She sang 6 songs on the movie's soundtrack including the dramatic never fading all time great that became her signature song, I Will Always Love You.
I Will Always Love You was not just a signature song of iconic performance but it also went on to become the all-time best selling female song of all time and spent over 20 weeks on the billboard charts. It is hard for people to appreciate that in fact this was not a new song but a song that had been done by the ageless Dolly Parton. However, Whitney sang it so well and in her own way and style that a lot of people associate it with her rather than Dolly Parton.
And, Dolly Parton herself has always been gracious at the work and fame that Whitney gave to the song. However, this was not easy. Put it simply it's like a new star taking on a Beyoncé classic and making it her own. It is hard to see but that is exactly what Whitney did to Dolly Parton taking away a song from the legend and making it her own thereby taking all the credits for it.
In 1995, Whitney returned to the screen with the black movie's very own desperate women in Waiting To Exhale. It was a movie that brought together four powerful soulful divas in Angela Basset, Loretta Devine, Lela Rochon and of course Whitney herself. The movie was success in portraying black women as middle class professionals and caring mothers rather than as stereotypes. Whitney was of course a singer first and foremost and what was lovely about her screen acting is that they were accompanied by her songs. Thus, she sang three songs to the Waiting To Exhale movie sound track: Count On Me that she did with Ce Ce Winans, Why Does IT Hurt So Much and Exhale (Shoop Shoop). It is worth noting that the soundtrack to this movie was produced by Whitney and the legend that is Kenneth "Babyface" Edmonds. Babyface, who wrote all the songs, wanted Whitney to perform all the songs but she declined saying she wanted it to be "an album of women with vocal distinction."
In 1996, Whitney featured in yet another high profile movie, The Preachers' Wife, this time starring alongside the majestic Denzel Washington. It was yet another success for this remarkable character. Her role and career was so powerful that a few people dare to remember that her mother also featured in the movie. The soundtrack to the movie which she did went to become the largest selling gospel album of all time.
In 1998, Whitney was back to doing what she did best, music, and recorded an album titled My Love Is Your Love that was inspired by and seen as a pure dedication to hubby Bobby Brown. In 2009, after a long absence she came back with the album I Look To You which debuted at No.1 on the billboard's 200.
Awards
Whitney's third US single How Will I Know not only peaked at No. 1 but also propelled her to being the first female African American artist to receive consistent heavy rotation on the then White dominated MTV show . Whitney has been credited with opening doors for most black women in the music industry notably Anita Baker and Janet Jackson. However, her influence extended far and beyond and was responsible for acts such as Mariah Carey, Toni Braxton, Celine Dion, Alicia Keys, Kelly Roland, Britney Spears, Kelly Clarkson, Jenifer Hudson to name but only a handful. Beyoncé told Globe a few years ago that Whitney inspired her to get up there and do what she did while Lady Gaga who gave a shout out to Whitney when she received a Grammy at the 2011 Grammy Awards said that she wrote her song Born This Way while thinking about Whitney's vocals.
In August 2001, Whitney signed the biggest record deal in music history with Arista/BMG. Meanwhile, songs such as Greatest Love Of Them All, How Will I Know, I Look To You all raked in awards for Whitney. In 2009, the Guinness World Records listed her as the most awarded female act of all time. She released 7 studio albums, 3 movie sound track albums all of which have diamond, multi-platinum, platinum or gold certification. She is the only artist to chart 7 consecutive billboards number ones.
Whitney amassed so many awards and achievements that it seemed untrue to recall that at only 15 she sang in the background vocals for Chaka Khan's hit single I Am Every Woman which she later sang herself and made it her own on her monster selling The Bodyguard soundtrack album. The album Whitney also produced four different No.1's making her the first female artist to produce such a result from the same album.
In November 1999, Whitney was named top selling Rn'B female singer of the century, The Bodyguard soundtrack was named top selling soundtrack album of the century. Whitney also won the best artist of the decade while Essence ranked Whitney 5th on the list of 50 most influential Rn'B stars of all time. She has been described as diva to end all divas.
Whitney The Role Model
Whitney was a great supporter of Nelson Mandela and was a strong anti-apartheid campaigner who, as a model, publicly refused to work for agencies who dealt with the apartheid regime of South Africa. In 1988, Whitney joined other stars at Wembley Stadium in London to celebrate then imprisoned Mandela's 70th birthday.
In 1989 WH set up a foundation to help children around the world. The foundation raises money for children affected by homelessness, aids, cancer and issues of empowerment. In 1990, Whitney was the spokesperson for a Youth Leadership Conference hosted in Washington DC. This enabled her to have an audience with then US President George H W Bush Senior at the Oval office to discuss associated issues. In 1994, Whitney attended and performed at the White House state dinner in honour of the then new South African President Mandela. Whitney went on to perform 3 concerts in South Africa in honour of Mandela and she donated the money to various charities in South Africa.
Good Girl Gone Bad
With the success of her first two albums, Whitney became an international crossover superstar the most prominent since Michael Jackson appealing to all demographics. However, some black critics felt that she was selling out arguing that singing on records lacked the soul that was there when she performed live concerts. At the 1989 Soul Train Music Awards, Whitney was booed when her name was called out. It was at this event that Bobby Brown then as a "King of Hip Hop" himself decided to shield Whitney and offer a hand of protection to the shy and vulnerable Whitney in a community that she was not used to.
It was this act of care and a sense of protection from Bobby Brown that swept Whitney away and the two took off on a courtship that would last 3 years before marrying in July 1992. Whereas a lot of people felt that Bobby was not good enough for the girly and almost angelic Whitney, she felt nothing but love for the man who himself was once an international Rn'B icon. Whitney in fact did a duet with Bobby titled We Have Something In Common in which they reminded the public that there much more between the couple apart from the love and the money. In March 1993, Whitney gave birth to her one and only child Bobbi Kristina Houston Brown and then sang My Love Is Your Love which was seen as a dedication to Bobby Brown for good measure.
However, even though Whitney was seen as a very good girl with the perfect image of the 80's and 90's, she changed dramatically by the year 2000. Whitney's behavior changed drastically, was late for interviews, photo shoots and cancelled performances. Her weight loss also added to rumours that she may have been on drugs but Whitney rubbished the stories as baseless.
Whitney did an interview with Diane Sawyer in 2002 to promote her forthcoming album. The interview was the highest rated television interview in history. However, Whitney again denied drug rumours when she said "First of all, let's get one thing straight. Crack is cheap. I make too much money to ever smoke crack. Let's get that straight. Okay? We don't do crack. We don't do that. Crack is wack."
After years of controversy and turmoil, Whitney separated from Bobby Brown in 2006 and was granted divorce in 2007. In September 2009, Whitney appeared on the Oprah Winfrey show to give her first interview in 7 years that was billed as the most anticipated music interview of the decade. Whitney admitted to using cocaine and said this was an everyday thing with Bobby.
It is important to stress that despite these demons Whitney appeared to have turned the corner. She came back and stated that her past was behind her. The music world welcomed her back like a lost child and everybody wished her well. Her last album, I Look To You also contained I Didn't Know My Own Strength which seemed to vindicate her commitment to overcoming her past and being back. However, Whitney once confessed in an interview that "The biggest devil is me. I am either my best friend or my worst enemy." The public will forever wonder which Whitney was in that bathtub on that fateful day.
Therefore, even though her death is yet unexplained and mourners did not face up to what a lot of people seem to think was the cause of her sudden death, this did not stop the fuming Celine Dion to give her damning verdict "Whitney's talent was an inspiration but she had been dragged down by drugs and bad decisions. "It's just really unfortunate that drugs, bad people, bad influences took over. It took over her dreams, her love and her motherhood. ..time after time we lose people taking pills to perform, pills to wake up and pills to go to bed." A lot of people will support such comments but in a closed society that is Hollywood such words are not spoken enough.
Religious Even In Turmoil
Whitney had weaknesses, and many at that. However, what remained visibly true even when she sank low was her loyalty to God. It was clear throughout her life that she appreciated that God had been kind to her and for this she always tried to repay her debt at every opportunity. Thus, even at the time that her drug troubles were the talk of town she famously stated on a trip to Israel in 2003, that "I have never felt like this in any other country. I feel at home, I feel wonderful."
Some of her most powerful songs contain lyrics either praising God or identifying him as the only one who can help overcome. It was therefore befitting that in her last ever public appearance at her long term friend's (Kelly Price) party Whitney decided to go on stage and in a cracking voice sang the Jesus Loves Me song. It was reported that in weeks leading up to her death she talked a lot about Jesus and how she was looking forward to meeting him.
A Genius At Work
Despite what happened later in her life there is no denying the fact that Whitney was super talented with her voice. Her songs have changed people's lives the world over. With Whitney there was no gimmick no tricks and no over elaboration there was just the voice. And, believe it or not, she did not even have to sing semi naked to sell her records, she did all effortless. Whitney is said to have been blessed with an astonishing vocal range and an extraordinary technical skill, but what truly made her a great singer was her ability to connect with a song and drive home its drama and emotion with incredible precision. Clive Davies described Whitney as a beautiful person, a talent beyond compare while adding "You wait for a voice like that for a life time."
Whitney was angelic and she displayed divine talent in her gorgeous singing voice. Dolly Parton commented on hearing of her passing that "I will always be grateful and in awe of the wonderful performance she did on my song and I can truly say from the bottom of my heart, Whitney, I will always love you." P Diddy simply paid tribute by declaring that she was the greatest voice he ever heard.
New York Times – Her voice was clean and strong, with barely any grit, well suited to songs of love and aspiration. Hers was a voice of triumph and achievement, and it made for any number of stunning, time-stopping vocal performances.
Whitney was a pop diva, no doubt. No one rivals Whitney in her exquisite vocal fluidity and purity of tone, and her ability to infuse a lyric with mesmerising melodrama. Whitney was, alongside Michael Jackson and Madonna, one of the artists who hybridize pop in the 80's though her strategy was far less radical than that of her peers. Jackson and Madonna were by turns lascivious and brutish and, crucially, willing to let their production speak more loudly than their voices, an option Whitney never went for.
Her gift was so rare, so impossible to mimic. She was someone more to be admired, like a museum piece, than to be emulated. We were blessed to listen to her music, to dance to it and to make memories with it. Unfortunately, they do not make them like her these days. But like she said "If I should die this very day. Don't cry, cause on earth we weren't meant to stay…"
Farewell to and RIP Whitney the lady who sang with clothes on one moment in time.
[Read 48 times, 1 reads today]