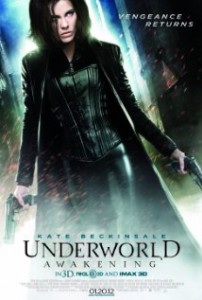 Kate Beckinsale, star of the first two films, returns in her lead role as the vampire warrioress Selene, who escapes imprisonment to find herself in a world where humans have discovered the existence of both Vampire and Lycan clans, and are conducting an all-out war to eradicate both immortal species.
PROS
CONS
Very lose story line
Pure lighting
some of the characters were unnecessary
unsatisfactory ending
FAVORITE QUOTE
Selene: I was with him one day, and when I awoke it was 12 years later.
Selene: My heart's not cold, it's broken.
CONCLUSION
Very disappointing movie . Having watched the last installment of the Underworld series , "Rise of the lycans" , i was expecting this latest one to be on the same level of greatness , but i was sadly mistaken. This movie is all action and the story line was paper thin .
This is the type of movie you watch to pass time.
RATING
2 out of 5

By Kapa187
[Read 17 times, 1 reads today]