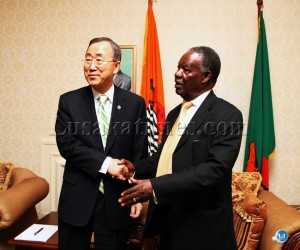 by Mwansa Besa
We are it again. The call by the United Nations Secretary General Ban Ki-Moon for people to respect gay and lesbian's rights makes some interesting reading. It is also interesting noting how this call has brought to the fore a wide range of reactions from people from all walks of life. Since time immemorial the issue of homosexuality and lesbianism has always raised a lot of questions and answers not only in Zambia but the world over. History is rich with stories of influential and bright people whose lives took a bad turn when it was discovered that they were gay. Names like Alan Turing arguably one of the greatest mathematicians this world has ever seen comes to mind. Turing's homosexuality resulted in a criminal prosecution in 1952.This was a time when it was illegal to perform homosexual acts in the United Kingdom. Justine Fashanu a former English player is another case of a good sportsman whose life changed for the worse the moment he came out to be gay. Both men ended up committing suicide.
I am not gay by any means but I support and welcome the call by Ban Ki –Moon because I find no reason in my heart why I shouldn`t respect how other people decides to live their lives. I can only have a problem if a gay person decided to shove his assets into me. Yes that no doubt can result into serious trouble. But if they do it in the privacy of their rooms and the act is between two consenting adults then I definitely have no reason why it should be any of my business. Sometime back I happened to meet one gay person who was open enough to share his experience with me. When I asked him why he was gay, his answer was like "What is the right sexual orientation anyway? And who said it is the right one?" That question caught me off-guard. I couldn`t find any right answers. I thought of pulling out my bible but the realization that I was dealing with someone who was an atheist made me to quickly drop the idea.
Going back in history it is worth noting that most of the persecutions and ethnic cleansings the world has witnessed started as a result of the majority thinking that the rights of the minority were not important. Good examples are the German Jews who suffered at the hands of Hitler and the still ongoing persecution of Hindus in Bangladesh.
Discriminating against gays and Lesbians who also happens to be in the minority is not any different. I think it is important to understand that we humans are complicated beings. What works for me might not work for another person. Hiding behind the bible in order to discriminate against our "abnormal" brothers and sister is not a good solution. Time we preached about love inspite of any differences. Talking about the bible, now I am wondering if that prostitute whom Jesus saved from being stoned could have been stoned if she so happened to be a Lesbian. Could Jesus have had allowed her to be stoned to death?
Discriminating against gay and Lesbian people is not any different from discriminating against people because of their different racial or cultural background because in all these cases the discrimination comes about because people find it a problem to accept what is different. Having had gone to school and worked with gay people, I have never had any problems with them. They are just as caring, hardworking, pay their tax and breathe the same air like any of us. What only makes them different is their sexual orientation. Perhaps I should ask you my fellow bloggers. If your son or sibling was to confront you one day and tell you that he is gay, can you reject or love him less?
Time we learnt to respect and embrace people with a different outlook about life. It is also important to remember that these are victimless crimes.
[Read 189 times, 1 reads today]