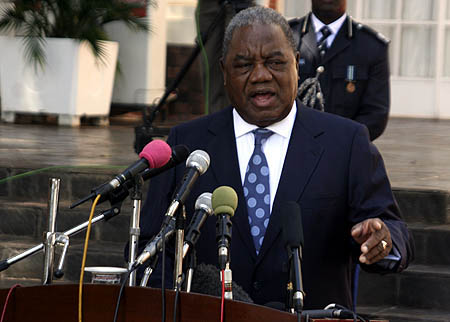 The United Party for National Development (UPND) has said that retired MMD leader and former Republican President Rupiah Banda deserves to be honored.
UPND deputy Spokesperson Cornelius Mweetwa told QFM news that Mr. Banda has proved to be a selfless leader who also ensured that there was a peaceful transition of power after last year's elections.
He has noted that the former head of state has left a good precedent by voluntarily stepping down as party president.
Mr. Mweetwa added that Mr. Banda should be looked at as a reservoir of knowledge by the up-coming politicians as he has not only been a politician but also a veteran diplomat who served the country well.
Mr. Banda stepped down as MMD party president on Thursday. Speaking during his official address, Mr Banda said the decision to step down was not necessitated by the prevailing political situation in the party or the nation.
"As you have already heard, I wish to officially announce to the nation that I have today Thursday March 15 2012 stepped down as president of our great party MMD," he said.
Mr Banda said he had stepped down now because he had been invited by the Boston University's African presidential achievers and research centre in the United States of America (US) to provide lectures.
"This programme will require me to be out of this great country for a period of three months which means I will be out for a long period of time. At first, the university wanted me to be in the US for one year, but because of commitments to my country, I felt it would not be right for me to be away for that long," he said.
He said a political party could not function effectively without a leader for a long period of time.
Mr Banda said he had remained consistent since he left power in September last year and that he would leave the leadership of the party to the younger generation.
"In fact, if you recall, I was due to officially leave the MMD leadership in December last year at a meeting held at Protea Hotel in Lusaka. However, my colleagues in the National Executive Committee (NEC) decided that I should stay on for a while to guide the party towards the convention where a new leader would be democratically elected," he said.
"If we were wrong in privatising Zamtel, history will prove us, if Zamtel will succeed, there will be more money in people's pockets.
Meanwhile, the former head of State also said he still believed that his Government was in order to privatise Zamtel and that only time would prove "who is right or wrong now that the company has been repossessed by the State."
"If we were wrong in privatising Zamtel, history will prove us, if Zamtel will succeed, there will be more money in people's pockets. And if they (PF) fail, the people we'll tell them that. But I believe that we made the right decision to privatise Zamtel," he said.
QFM
[Read 9 times, 1 reads today]