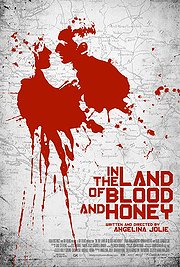 Set against the backdrop of the Bosnian War that tore the Balkan region apart in the 1990s, In the Land of Blood and Honey tells the story of Danijel and Ajla, two people from different sides of a brutal ethnic conflict. Danijel, a soldier fighting for the Serbs, and Ajla, a Bosnian held captive in the camp he oversees, knew each other before the war, and could have found love with each other. But as the armed conflict takes hold of their lives, their relationship grows darker, their motives and connection to one another ambiguous, their allegiances uncertain.
PROS
The movie has a  very gripping story , with a lot of emotion.
Great performance by the two main actors .
some scenes were very graphic.
CONCLUSION
It's a tough, clear-eyed look at a ghastly ethnic war, with an admirably wide perspective that affords compassion for both sides. In the Land of Blood and Honey is a relentless, disturbing chronicle of cruelty. It is bleak and brutal. Angelina Jolie , who directed the movie ,is showing this could be — and still is — happening in other parts of the world.
RATING
5 out of 5

By Kapa187
[Read 20 times, 1 reads today]