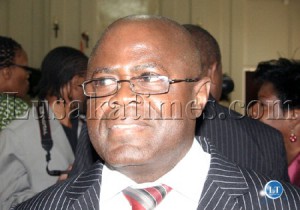 Government has maintained its stance to exploit and mine uranium in a secure and safe environment for the benefit of the Zambian people.
Mines, Energy and Water Development Minister Chris Yaluma said uranium mining was not harmful to people provided measures are taken into consideration.
Mr. Yaluma disclosed in a speech read for him by his Deputy Isaac Banda at a uranium workshop in Lusaka yesterday that government has engaged a Finnish Geological Survey to work with the Zambian experts to enhance the aspects of safety, health and environment in the uranium regulations.
He said concentration of naturally occurring uranium does not raise the radiation levels above the recommended safe levels by the International Atomic Energy Agency (IAEA).
He hoped that the workshop will clear some of the fears and misconceptions on uranium exploitation and mining.
And speaking earlier, Finnish Ambassador to Zambia, Pertti Anttinen,said his government was happy to provide support to Zambia's Ministry of Mines towards a secure exploitation of mineral resources.
Ambassador Anttinen emphasized that the exploitation of uranium has to be done securely in every aspect in order to safeguard the wellbeing of the people and the environment.
QFM