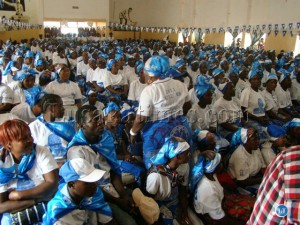 Judgement in the case in which the MMD through their lawyers Hobday Kabwe and Company and George Kunda and Company filed a judicial notice for leave to apply for judicial review has been set for 26th June 2012.
When the matter came up for hearing before High Court Judge Jane Kabuka this afternoon, Chief state advocate Kombe Mwila asked the court to quash the application for Judicial review on grounds that the applicant had failed to exhaust the laid down channels to appeal through the Minister of Home Affairs.
Mrs. Mwila told the court that the MMD failed to observe the natural rules of justice when they failed to heed to the notices served on them prior to the decision of deregistration of March 14th ,2012.
She stated that the Chief registrar of societies Clement Andeleki acted within the law by giving 21 days notice to the MMD before arriving at his decision.
Mrs. Mwila argued that issues of illegality, irrationality and procedural impropriety in the matter do not arise and further asked the court to dismiss the application for judicial review with costs to the applicant.
And MMD lawyer Hobday Kabwe argued that there would be a prospect of biasness if the appeal in the matter was lodged with the Minister, on account that the officer who made the decision to deregister the MMD is under the same Minister.
Judge Kabuka therefore adjourned the matter for judgement on or before June 26, 2012.
The former ruling party had sought legal redress against the de-registration and further asked the court to declare the Registrar of Societies' decision to deregister the MMD as unlawful, null and void.
QFM