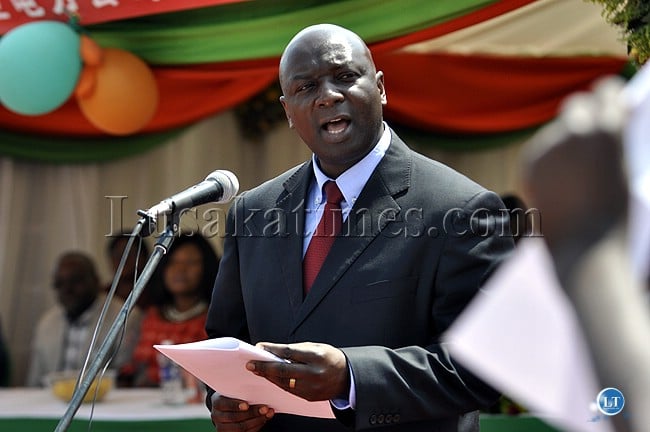 THE construction of the US $334 million ZESCO 330 kv high voltage transmission lines will create over 3000 direct and indirect jobs in Eastern, Luapula, Northern and Muchinga Provinces, among other benefits, Chinese Ambassador to Zambia Zhou Yuxiao has said.
This came to light when Mines, Energy and Water Development Minister Christopher Yaluma officiated at the groundbreaking ceremony of the project in Kasama yesterday.
Mr Yaluma said once completed the frequent power outages at peak hours the four provinces had been experiencing for a long time owing to the inadequate 66 kv power they were receiving from Pensulo substation would be a thing of the past.
Mr Yaluma observed that electricity was no longer a luxury, but a necessity which was useful in driving industrial development and promoted overall economic growth besides it improving the lives and social development of the citizenry thus pledging Government's commitment to ensuring that a larger portion of rural and peri-urban areas had access to electricity.
He observed with sadness that the current 66 kv power supply which was adequate at the time of construction had negatively affected the provinces in question owing to among other reasons mining firms shunning to invest the areas while others ended up exporting unprocessed ore to the detriment of value addition and employment creation.
"It is unfortunate that the northern part of the country is under developed when it has huge potential for the mining industry which has so far not been realized due to insufficient and unreliable electricity supply.
"In addition, Northern Province harbours some of the best tourist attractions which have not been developed due to the same energy problems I have already alluded to," he said.
Mr Yaluma observed that the project would go a long way in ensuring that there was increased access to electricity as per Government's commitment, through ZESCO, to achieving the 50 per cent target set in the Vision 2030, which it was committed to realizing.
The Minister said there was need for electricity tariffs to reflect the actual cost of the service for them to sustain the service delivery of the power utility company and that provision of good and quality electricity supply to the four provinces needed not to be overmphaised.
Mr Yuxiao said it was a known fact that transmission lines were indispensible for economic development in any country as they played critical roles in all parts of the economy, citing mining, agriculture, education, health, tourism and manufacturing.
"Like blood vessels that carry oxygen to all parts of the human body, transmission lines deliver power to all sectors of an economy," he said.
Mr Yuxiao said the most immediate and tangible benefits to be derived by the project was job creation of up to 3000, directly and indirectly. It was estimated that construction of the transmission lines would create 1000 direct and 2000 indirect jobs.
"After their completion, the power grid in Northern, Muchinga and Eastern Province will be greatly improved and upgraded and may even be extended to Tanzania and Malawi. Therefore, the power lines will not only deliver electricity to the power-thirsty remote areas and reduce poverty in Zambia, but will also likely bring earnings to Zambia through power export to the neighbouring countries," he said.
He implored the Chinese firm engaged, Tebian Electric Apparatus (TBEA) Stock Company Limited, to implement the project with good quality and high speed coupled with abiding by Zambia's relevant laws and regulations, employing as many local workers as possible as well as treating and paying them well.
TBEA Stock Company Limited vice president Li Bianqi who spoke through an interpreter said Zambia's power usage had been rapidly increasing over the past decade and assured that the transmission lines would boost the various economic sectors.
Mr Li said his firm would exert its efforts using its high quality products coupled with engaging both skilled and non-skilled manpower in a bid to improve the living standards of the people in the operational areas.
ZESCO managing director Cyprian Chitundu said the two transmission lines in question would provide interconnection points for the Zambia-Tanzania and Malawi interconnectors, adding that it was envisaged that once completed, the interconnectors would enable for the improvement in the overall system stability as well as increasing regional electricity trade.
Northern Province Minister Freedom Sikazwe said he was hopeful that the groundbreaking ceremony marked the beginning of the resolution of the various electricity challenges the provinces were experiencing.
"The commencement of these two projects confirms our Government's commitment to ensure that every Zambian regardless of where they stay have equal access to reliable and quality of electricity supply to improve their quality of life and standard of living," he said.
Senior chief Mwamba, who Mr Chitundu among other senior company officials had paid a courtesy call on him at his palace, said commended the parties involved for the development and was hopeful that the project would benefit his subjects.
The aforementioned project's total implementation cost would be broken down into two, with the Pensulo in Serenje to Kasama one costing US $168 million while US 166 million is for the implementation of the project from Pensulo to Chipata.
The project was necessitated by the signing of an Engineering Procurement and Construction (EPC) contract between ZESCO and TBEA Company Limited of China in September, 2010 and the two firms estimate to complete construction works in 30 months.
In the contract, ZESCO intends to construct a 330 kv high voltage transmission line emanating from Pensulo substation in Serenje to Kasama via Mpika and another 330 kv high voltage transmission line from Pensulo substation to Chipata via Msoro and extension of the existing Pensulo substation to accommodate the two transmission line bays.
A ZESCO study report based on Eastern, Northern, Luapula and Muchinga Provinces revealed that power demand was expected to increase in those areas arising from agricultural activities, mechanized tourism, mining explorations and operations.
[Read 47 times, 1 reads today]