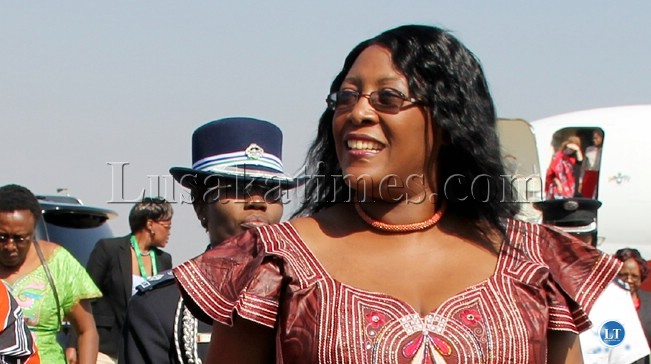 FIRST Lady Christine Kaseba has bemoaned the numbers of youths sold out to alcohol, drugs and pornography. Dr Kaseba, speaking at the Youth creating the future conference organised by Teen Vision Trust in Lusaka yesterday, urged parents to inculcate into children good morals that they would thrive on as they grow.
The First Lady said it is no secret that many young people have contracted HIV and AIDS long before marriage age and most of them cannot stay in an institution of education.
"Today's generation is sold out to alcohol, drugs and pornography. It has become common place to hear many of our young people are hooked to very bad and disturbing vices such as crime, prostitution and vandalism," Dr Kaseba said.
She appealed to the youth to strive to live healthy lifestyles by avoiding alcohol for those below the age of 18, abstaining from sex and shunning crime no matter the desire for money.
Dr Kaseba said: "You should focus more on education for that alone will bring release of most shackles of life. Knowledge will empower you to start creating the future for you. A good education is what made me."
The First Lady also implored Government to introduce vocational training, entrepreneurship and strategic management as an option to creating employment for the youth.
She said vocational training is crucial for economic growth, especially if learnt at an early age among youths who are unable to proceed with their secondary or tertiary education.
"Inadequate school places, especially secondary school places, has forced many youths into the street. I believe that youths can turn the tide around by seeking other avenues to add value to their lives than engaging in activities that can destroy them," Dr Kaseba said.
The youth conference dubbed 'A world of possibilities' has attracted more than 500 youths from all parts of the country. Dr Kaseba urged parents to ensure that children are set on a course to a possible productive life.
Teen Vision Trust board chairperson Chibamba Kanyama said a trust fund of over K500 million has been set aside to help youths with ideas to embark on entrepreneurship projects.
Mr Kanyama, who is Zambia National Broadcasting Corporation (ZNBC) director general, said Teen Vision Trust wants to inspire youths and prepare them to run businesses.
Hellen Lunda, who is Finance Bank Zambia executive director, corporate and banking marketing, said the bank has plans to nurture today's youth because they are the social, economic and financial leaders of tomorrow.
She said the bank appreciates that not all youths would go into formal employment therefore would allow them access overdrafts or loans to help them grow their businesses.
Sylva Professional Catering managing director Sylvia Banda, who was one of the speakers, urged youths to work hard to determine their destiny. Ms Banda said she went into business as a caterer but has now diversified into other sectors.
Other speakers at the conference included motivational speakers Mubita Nawa, Felix Banda, David Nama and Lunte Member of Parliament Felix Mutati.
[Zambia Daily Mail]
[Read 32 times, 1 reads today]