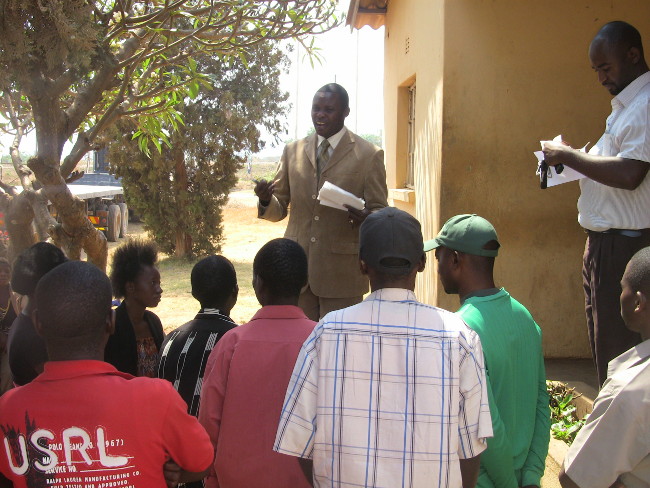 Farmers threatened to disrupt the peace at Mkushi's government offices complex yesterday afternoon when scores of them besieged the office of the District Commissioner to protest against Stanbic Bank.
Mkushi District Commissioner Christopher Chibuye confirmed to ZANIS that more than 100 farmers had sought his intervention into a matter that involved the pace of Food Reserve Agency (FRA) mode of payments at the Mkushi Stanbic Bank.Mr Chibuye said that upon investigating the matter, he was disappointed to learn that the bank had so far assigned only one Teller to pay farmers for FRA transactions from the time that FRA money was sent to the Mkushi Stanbic bank last month.He said in the quest for a suitable solution, he immediately liaised with Stanbic Management to have extra pay point Tellers for this exercise.
He said that the slow pace of payment had caused so much anger amongst farmers, adding that several of them had proposed that the FRA should discontinue engaging Stanbic bank for the payment exercise.Mr Chibuye said that management has since responded favourably to his proposal for increased pay points, saying the move would be applied with immediate effect.He expressed hope that the new measures would help to quicken the pace of FRA payments as well as quell the anger of the farmer clients who have been lining up for payments for the past 4 weeks.
And in relation to FRA monies allocated to Mkushi, Mr Chibuye disclosed that the district has been allocated several billions of Kwacha to pay farmers for the 2012 maize transactions.He said that from the amount, K21 billion had been deposited at Mkushi ZANACO Branch, whilst K14,140,000,000 had been deposited at the district's Stanbic Branch.He noted that the FRA had a K14billion balance to complete the total allocation for paying Mkushi farmers for maize transactions, explaining that the FRA had bought maize worth K49billion in the district.
However, some farmers complained that the payment exercise at Stanbic had led to several of them spending nights along the shop corridors near the bank.
Eliphas Ngoma one of the Ilume agriculture Block farmers complained that he had spent several nights along shop corridors due to the slow pace of payment.Mr Ngoma alleged that the slow pace of payment presented a climate in which farmers were prone to being exploited by Stanbic bank staff who may resort to bribes in order to be served earlier.
He expressed hope that the intervention of the District Commissioner would help to address the challenges being faced by farmers in the district.
However, there were no independent confirmations that farmers were being subjected to corrupt practices in order to be served earlier.
[Read 9 times, 1 reads today]